Death on Wheels Tournament – B-B-B-Bad to the Bone Christine Takes All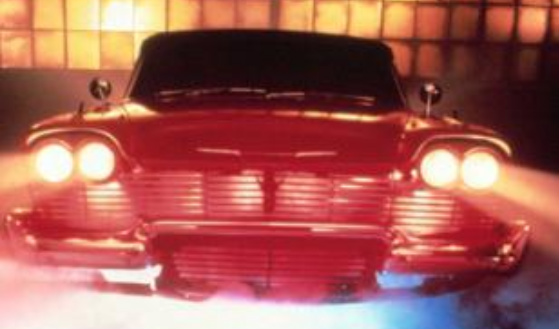 A performance like this could make you wonder why we even bothered to have a tournament in the first place: Christine was the number-one overall seed, so right out of the gate we kind of saw it coming. Was there a chance for an upset? A Cinderella story? Well, this girl has been killing peeps since before she rolled off the assembly line, so if there's a glass slipper to be found she ran that shiz over long ago.
The 1958 Plymouth Fury of note opened up with a first-round drubbing of a bad-ass truck from a just-plain-bad movie, the Landmaster from Damnation Alley (and don't think you have to run out and rent that one to get caught up; it's just not worth it). In the semi-finals, Christine toppled the most recent contender in our tourney, Stuntman Mike's Death Proof 1969 Dodge Charger. And for the championship? The Stephen King-created Christine ran roughshod over the Stephen King-created Goblin Truck from Maximum Overdrive.
Christine can catch fire and still look snazzy. She can heal herself (which is truly horrifying to those who make a living repairing cars) and she'll kill you in any number of ways. Let's just be glad that this time out she was dusting Dusters and fragging Fords instead of killing people . Well, okay… those cars weren't competing. But you get the picture.
Ladies and gentlemen, I give you a video celebrating the baddest to the bone, the cham-peen of the Death on Wheels Tournament: Christine. Click here to see her highlights and listen to a little George Thoroughgood.
Read More