Death on Wheels Tournament – Death Race 2000 (No. 2) vs. Jeepers Creepers (No. 7)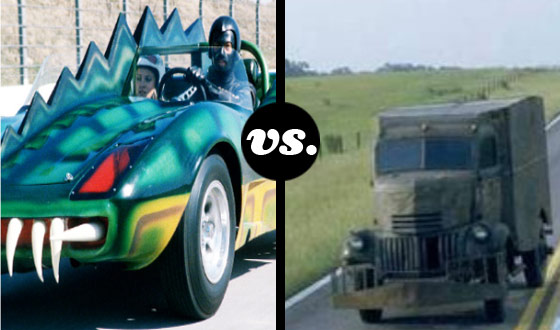 Death Race 2000 (No. 2) vs. Jeepers Creepers (No. 7)" width="560″/>

It's a Tyrannosaurus Rex-themed car that's called Frankenstein. Do I need any more reasons to make this the No. 2 overall seed? Hell no. This modified Corvette from Death Race 2000 has speed and looks and has dished out more pedestrian death than any other vehicle in the tournament. Look up "vehicular homicide" in the dictionary (if you can still find one) and you'll probably see a picture of this ride.
But vehicular homicide is not the same a homiciding a vehicle (bear with me on the word-play), and Frankenstein is up against a major vehicle in the 1941 Chevy COE from Jeepers Creepers. Rusty, dented, mean and nasty, this thing is a victim-snagging machine that herds people like cattle, slaughterhouse and all. Mass-wise, the COE has the upper hand, but can it match Frankenstein's speed?
Oh, you want to see for yourself? Check out the YouTube videos!
• Death Race 2000 trailer with Frankenstein shots
• Horn-blowing highway scares from Jeepers Creepers
Frankenstein, are you ready? Chevy COE, are you ready? Let's get it on!

Read More