Death on Wheels – Death Proof (No. 3) vs. Duel (No. 6)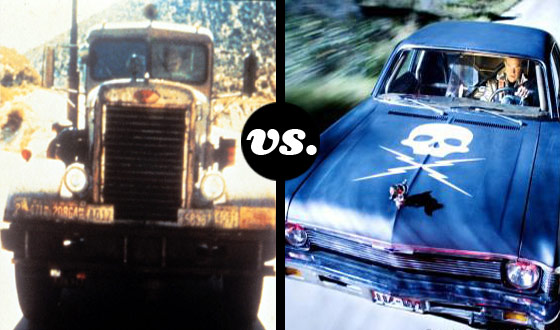 Death Proof (No. 3) vs. Duel (No. 6)" width="560″/>
Few movie cars muscled their way onto movie screens like Death Proof's
molded-from-awesome 1969 Dodge Charger. The car is pure death,
hence the title. But is a fast machine that keeps its motor clean a
match for a big, bruising heavyweight?
When it comes to pure visual intimidation, it doesn't get better than the massive, rusty, snarling 1955 Peterbilt from 1971's Duel.
If Hell had gas stations, the Peterbuilt would be hauling fuel or them.
Heavy, fast and loud, it reminds you that force equals mass times
velocity. Can it overtake Stuntman Mike's ride and wind up scraping the
1969 Charger out from under the front cow-catcher?
Check out video for both:
• Car crash medley from Death Proof
• Duel truck gets off on telephone booth

Death Proof Charger, are you ready? Duel Peterbuilt, are you ready? Let's get it on!

Read More