Daily Scan for 10.01.09 – John Carter Spans Series, He-Man Resurrects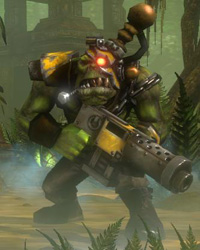 • What will the follow-up to Pride and Prejudice and Zombies and Sense and Sensibility and Sea Monsters be? How about Louisa May Alcott's Little Women and Werewolves?
• Oh, sweet Jehovah, wasn't CGI just made for this one: Warhammer 40,000: The Movie.
• The Hollywood Reporter says that John Carter of Mars will feature characters spanning several books. Just leave Carter as an immortal Confederate soldier, Disney, and I'll be happy.
• The He-Man movie has been killed at one studio and resurrected at another in the space of a single week — by the power of Greyskull, natch.
• Short of Star Wars (which has its own MMO in production), no scifi universe calls out for a massively multiplayer game as much as Star Trek — and that game is coming. Check out the images over at Massively.
• Fifty years later, Rod Serling's Twilight Zone is just as poignant now as it was then.
• We're forty years in, so just how accurate was Stanley Kubrick's 2001: A Space Odyssey in predicting the future? Not very, if corporate logos and airplane food are to be the judge.
Read More