Uncategorized
Flashback Five – Leona Lewis' Slap-Happy Stalker No Match for Super-Fans in the Movies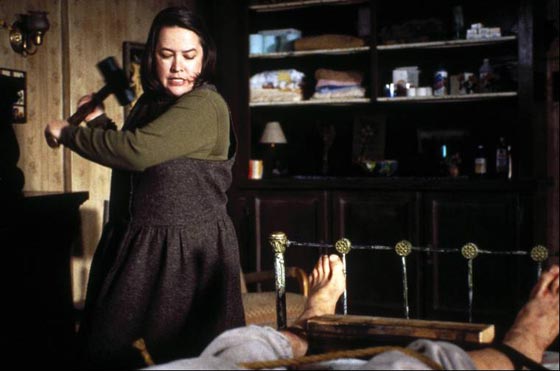 Earlier this week, pop superstar Leona Lewis had the unfortunate experience of getting either slapped or punched in the face (reports differ) at a book signing in London. As the slapper was dragged away by the police, he screamed, "I love you Leona!" Though we bet that Lewis will get better in time, she might want to be thankful she didn't have to deal with some of the most obsessed fans in movie history, like these…
1. Paul Aufiero (Patton Oswalt), Big Fan (2009)
In this one, it's the fan that gets slapped around. Spotting his idol, New York Giants player Quantrell Bishop, on Staten Island, Patton Oswalt trails the footballer all the way to a strip club in Manhattan and stalks him as he hangs out with his friends. Probably not deserving of the beatdown that ensues, but pretty creepy nonetheless.
2. Syndrome (Jason Lee), The Incredibles (2004)
Murdering superheroes and trying to take over the world is certainly one way of telling your idol you love him… Supervillain Syndrome (Jason Lee), snubbed by hero Mr. Incredible when he was younger, concocts a complicated plan to draw the attention of his idol by saving the city from evil robots he himself created. Most super-fans don't quite have Syndrome's budget, alas.
3. Betty Sizemore (Renee Zellweger), Nurse Betty (2000)
Obsessed with the fake soap opera "A Reason to Love," Renee Zellweger
is driven into a fugue state after witnessing her husband's murder.
Believing herself to be a character on the soap, she travels clear
across the country to be "reunited" with her fiancée, hunky doc Greg
Kinnear. He's not receptive, surprisingly enough.
4. Gil Renard (Robert De Niro), The Fan (1996)
How
do you show a great baseball player like Wesley Snipes you love him? If
you're a knife salesman, and Robert De Niro, you corner Snipes' closest
rival in a sauna, and murder him. And then, when Snipes doesn't laud
you for your behavior, you track him to his beach house and kidnap his
son. Fun times!
5. Annie Wilkes (Kathy Bates), Misery (1990)
Kathy Bates' Oscar-winning performance as the psychopathic uber-fan
Annie Wilkes is one of the most terrifying movie villains of all time,
and would have been so with or without this movie's horrific hobbling
scene. After nursing her favorite author (played by James Caan) back to
health after a car crash, she proceeds to hold him hostage, forcing him
to write a novel for her by horrifically torturing him.
Honorable Mentions:
1. The Fanboys, Fanboys (2008) –
Compared to some of the fan behavior on this list, the guys (Jay Baruchel, Sam Worthington, and co.) in this gang
are fluffy kittens. Breaking into Skywalker Ranch is low on the list
of crimes, especially when you consider they're breaking in to see The Phantom
Menace.
2. Harlan Rook (David Hunt), The Dead Pool (1988) –
Even cops have super-fans, as Dirty Harry (Clint
Eastwood) finds out when one of those fans tries to kill him to rack
up the most celebrity murders in a "dead pool" contest. Crazy killer Rook also has some cockamamie idea about a director he worships having stolen his ideas, so this one's a twofer.
3. Rupert Pupkin (Robert De Niro), The King of Comedy (1982) –
Oh, Robert De Niro. Kidnapping Jerry Lewis and forcing him to give you a
stand-up spot on his late night talk show isn't the way to impress your
idol and break into show business. No, wait. It is!
4. Douglas Breen (Michael Biehn), The Fan (1981) –
Obsessed with movie star Lauren Bacall (and hey, who isn't?), insane
record salesman Biehn decides to slice up her friends so she'll
have no choice but to become his girlfriend. Ain't love grand?
5. Norman Maine (James Mason), A Star Is Born (1954) –
In a weird twist, the oft-remade movie depicts a super-fan who actually
does some good. Faded movie star Mason continually tracks down
and stalks Judy Garland throughout her career… And he ends up making
her famous. See, Leona? Sometimes everything works out for the best in
the end.
Read More