Uncategorized
Flashback Five – Letterman Admits His Extramarital Affairs in a Monologue. How Do the Movies Do It?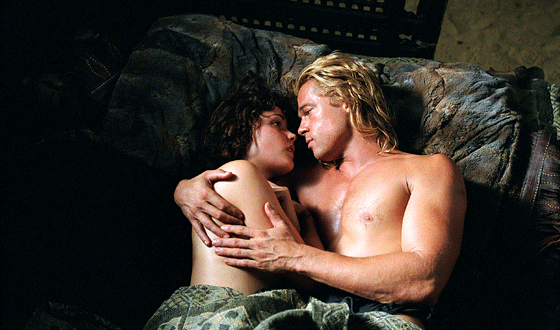 David Letterman shocked the world this past week with the shocking news of the multiple affairs he'd had with Late Night staffers. Some think it was a smart way to control the conversation; others think it was just plain bizarre, even for Dave. Either way, his nonchalence was worthy of note! Of course, he's a product of these modern times – things weren't always so easy for philanderers, as a trip back through the movies makes plain…
1. Troy (2004)
Helen of Troy lets her husband Maneleus know she's cheating on him by running away with her lover (and starting a major war). This sort of behavior may have been acceptable in ancient times, but really, a simple Dear John letter would have sufficed.
2. Unfaithful (2002)
When Diane Lane's adulterer comes clean about the affair she's been having with a young Frenchman in a conversation with her husband (Richard Gere), her candor yields some unexpected results: Turns out her husband murdered her playmate in a fit of rage! Not the outcome you want, generally speaking.
3. The Scarlet Letter (1995)
In the 17th century, Hester (Demi Moore) said it loud and clear with a pregnant belly and a red "A" on her chest. Now's that succinct!
4. Fatal Attraction (1987)
Family man Michael Douglas tries his hardest to keep his one night stand with Glenn Close under wraps, but he's forced to come clean after things spin out of control. The impetus for his brutal sit-down with his wife? That famous boiled rabbit.
5. The Postman Always Rings Twice (1981)
In this erotic thriller, bored diner-operator Jessica Lange first
leaves a note for her husband, telling him of her affair with Jack Nicholson's penniless drifter, but ends up deciding to kill him instead. That's one way of sending the message…
Honorable Mentions:
1. Little Children (2006) –
Though Kate Winslet never confesses her affair to her husband, her
tearful apology to her daughter for "losing" her takes its place.
2. The End of the Affair (1999) –
Julianne Moore and Ralph Fiennes' star-crossed lovers are forced to recount their decades-old affair to cuckolded husband Stephen Rea when confronted with his suspicions. He's okay with it, though.
3. Bound (1996) –
In this steamy flick, Joey
Pantoliano finds out Gina Gershon and Jennifer Tilly are having an
affair by tying them to chairs and torturing them. Bringing sadism and
same-sex liasons into the equation: A modern twist!
4. Malice (1993) –
Nicole Kidman only confesses to her affair (with Alec Baldwin) after falling for a trap set by her husband (Bill Pullman) and the police. When you're caught trying to smother the kid-witness next door, you really have no other choice.
5. Cujo (1983) – Unfulfilled mom Donna's story plays out the old-fashioned way: She gets caught in the act, a particularly unappealing way to come clean.
Read More