Classic Ten – Movie Characters in All Their Halloween Costumed Glory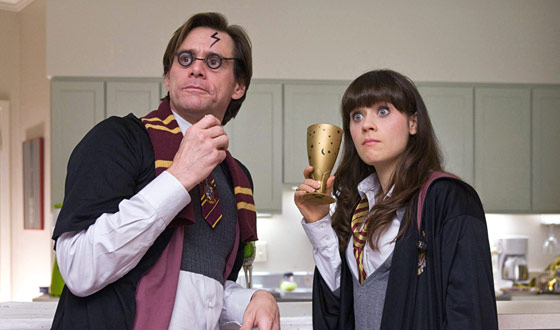 Sure, you could go out and buy a trendy costume based on the most popular movie in theaters — though Max costumes from Where the Wild Things Are sold out before the pic was even released. Luckily, there's no shortage of ideas at the movies: Screenwriters love to use Halloween as a way of making their characters look extra ridiculous. (Or unrecognizable. Or just plain scary.) Read on for a list of the top ten movie meta-costumes worthy of copycatting this Halloween.

10. E.T. in E.T.: The Extra Terrestrial (1982)
A ghost costume is like the muumuu of Halloween costumes — it covers up a whole host of ills, including, in some cases, the fact that you're an alien. Still, while the ghost look was subtle and useful, E.T. really should have considered his "Gertie's closet" ensemble as an alternative. Positive points for functionality balancing out negative points for creativity equal out to the bottom spot on this list.

9. Dani (Thora Birch) in Hocus Pocus (1993)
At first you might not think Dani's witch costume is all that, but take a closer look at the way the movie's actual witches are dressed and you'll see that she's nailed it! Even better, it provides excellent cover when blending with trick-or-treaters on the street in order to avoid capture. For the ability to channel her inner mismatched-hag, Dani takes ninth place.

8. Wednesday Addams (Christina Ricci) in The Addams Family (1991)
Kudos (and the number eight spot) to Wednesday for thinking outside the
box and wearing her normal clothes to go as a "homicidal maniac" in
this flick. Talk about saving money on materials! Your costume doesn't
always have to be outrageous, it just has to make sense — and who can
argue with Wednesday's explanation that maniacs "look just like everyone
else"? Indeed…

7. Sam (Quinn Lord) in Trick 'r Treat (2008)
Sometimes
a Halloween costume is just what you need to fit in, especially when
you're a pint-sized demon and your normal face is monstrous. Little
Sam, star of the final vignette, is just trying to do his job — and a burlap sack is a great
way to camouflage most unsightly features. Runner-up costume themes in
Trick 'r Treat include "Of course I'm human" and "I'm a hot-dog, not a
werewolf!"

6. Jack (Michael Keaton) in Mr. Mom (1983)
Jack's jailbird costume is no joke when he's left to fend for himself
(and his brood) on the happy holiday while his wife is away on
business. Things aren't all bad, though, what with sexy neighbor Joan (Ann
Jillian) tagging along as a hot kitty. Jack's costume's not-so-quiet
commentary brings him to sixth place, with extra Halloween-y goodness
added by Annette's (Miriam Flynn) authentic E.T. mask.

5. Carl Allen (Jim Carrey) in Yes Man (2008)
When you absolutely must
have a specific costume, but the only one left on the racks is for
toddlers, what do you do? You buy it, of course! Then you rock it a la
Carl Allen in Yes Man. Sporting a miniature Harry Potter scarf,
tie, wand and vest, Carl dares you to mock. In appreciation of Carl's
perserverance to his costume quest in the face of adversity, he makes
it to the halfway mark on the list.
4. Frank (James Duval) in Donnie Darko (2001)
OK, so it turns out that Frank, the guy in the bunny suit, is really
just his sister's boyfriend trying to show Donnie (Jake Gyllenhaal) the
future, but damn.
That skeletor-face is scary. Even though Frank wears the freaky costume
in Donnie's hallucinations throughout the movie, it all circles back to
that fateful Halloween party, a key plot point that lands him in very
good standing on this list.

3. Daniel Larusso (Ralph Macchio) in The Karate Kid (1984)
The Karate Kid's wrap-around polka-dot shower curtain will go down in
infamy as one of the most unique costumes in movie history. When you've
got a girl to see and there's revenge to be had, all bets are off, even
with high school bullies breathing down your neck! The only thing that
could have boosted Daniel higher would be a functioning shower head.

2. Cady Heron (Lindsay Lohan) in Mean Girls (2004)
Anyone
who goes against the slutty-costume tide deserves the penultimate spot
on this list. Cady's zombie "ex"-wife costume is a success
precisely for that reason, even going so far as to frighten a partygoer
off a balcony. For her willingness to ugly it up in the name of
Halloween (albeit unwittingly), Cady makes it to number two. That's
what the holiday is all about!

1. Michael Myers Age 6 (Will Sandin) in Halloween (1978)
Somebody should have seen this one coming… Any six-year-old who
dresses up as a murderous clown is bound to be trouble! Little Michael
Myers knows what works: Take a clown suit, add a butcher knife and
some really, really creepy eyes, and you've got yourself a whopper of a
costume. All he needs to complete the outfit is a decapitated head to carry all his candy in.

Read More