Christine Leads the Pack in the Death on Wheels Tourney Semifinals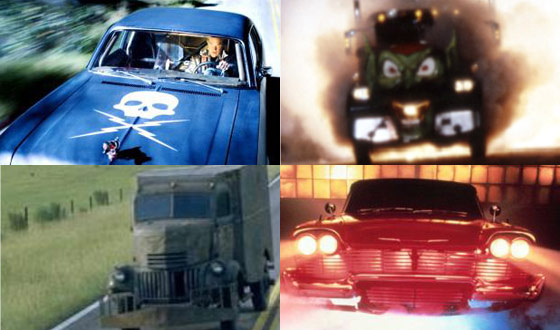 In the first round of the Death on Wheels Tournament, three hopeful Cinderellas can go back to mopping floors, because the top just seeds weren't having it.
Christine (No. 1 seed), Stuntman Mike's 1969 Dodge Charger (No. 3 seed) and the Goblin Truck from Maximum Overdrive (No. 4 seed) all followed the script, beating their lower-seeded opponents. The only upset came from the rusty, seventh-seeded 1941 Chevy COE from Jeepers Creepers. The Creeper's crusty ride beat out the No. 2 seed, the modded Corvette known as "Frankenstein" from Death Race 2000.
The Creeper's COE will have to perform an even greater feat of fearless fortitude if it's to win its semifinal match against Christine. Christine, a 1958 Plymouth Fury from the movie of the same name, demolished the eight-seeded Landmaster from Damnation Alley by a vote ratio of seven to one. That's an ass-whoopin', folks, and with good reason — Christine is arguably the most famous movie car of all time. Oh, and she's a supernatural piece of bad mama-jammaness.
The semifinal matchup between the Goblin Truck and Stuntman Mike's '69 Charger is a different story. Both won their first-round encounters with just over 300 total votes, so they appear to have the same level of fan appeal. Goblin beat up on the Dead Reckoning RV from Land of the Dead (No. 5 seed), while the Charger did the nasty on the 1955 Peterbilt from Duel (No. 6 seed). The Charger, which hails from the flick Death Proof, clearly has the capacity to dust a semi, but will that be enough against the Green Menace?
The answer to that, Dear Reader, is in your hands. Prepare to rumble!

New York Times best-selling author Scott Sigler writes tales of hard-science horror, then gives them away as free audiobooks at www.scottsigler.com. His novel INFECTED was named as Border's #1 mystery, thriller and horror novel for 2008. His next major hardcover horror/thriller ANCESTOR will be out on May 4, 2010.
Don't agree with what Scott says in this blog? Post a note in the comments section below. Include all relevant personal information, such as your address and what times you are not home, so Scott can pay you a surprise visit and show you his world famous "Chicken Scissors."
Read More