Christine and Maximum Overdrive Face Off in the Death on Wheels Tournament Finals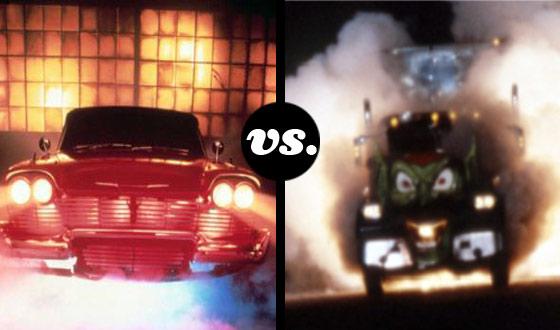 Christine and Maximum Overdrive Face Off in the Death on Wheels Tournament Finals" width="560″/>
Hail to the King, baby! We've been grinding gears, popping clutches and (insert your favorite automotive reference here) for weeks, and now we're down to the final round. And the same damn horror writer is responsible for both contestants.
Yes, it's Stephen King's Christine vs. Stephen King's Goblin Truck from Maximum Overdrive). Winner take all, hoist the trophy and throw the belt over your shoulder. Or maybe throw the belt in the back seat and move on to more slaughter and destruction.
This round it's speed (Christine) vs. brawn (Herr Goblin). The top seeded Christine dusted the No. 8 Landmaster from Damnation Alley in round one, then killed a second truck when she crushed the 1941 Chevy COE rust-bucket from Jeepers Creepers. Meanwhile, the fourth-seeded Goblin Truck whupped ass on the Land of the Dead RV known as "Dead Reckoning," then in Round 2, upset the second-seeded Stuntman Mike's '69 Charger from Death Proof.
And now it's on to the championship — and somewhere, Stephen King is laughing that evil laugh of his. Christine, are you ready? Goblin Truck, are you ready? Then let's get it on!

Read More