Anybots and WowWees Are Today's Robot Surrogates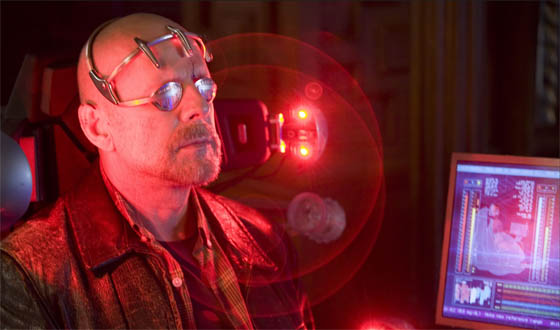 <img src="http://dev.blogs.amctv.com/wp-content/uploads/2009/10/Surrogates_Jonathan_Mostow_560x330.jpg" alt="" title="Anybots and WowWees Are Today's Robot Surrogates" width="560″/>

Ready for your robot doppelganger? While we can't yet use robots the way they do in Surrogates, today's technology suggests the time will come when we can. When that happens, each of us will be faced with a choice: Live life from the safety of a "stim chair" or face the world in person like the Dreads. (Agent Tom Greer, Bruce Willis, chooses the latter; a decision made easy by the fact that unlike everyone else in the movie, he's better looking than his robot replacement and there's also the possibility that using it could get him killed.) But what will you do when faced with a chance to live life differently? Can't wait to find out? Here are four ways to get your surrogate on today:
Buy Mattel's Mindflex


For just $80 you can find out what it feels like to control something synthetic using only your mind. That something isn't an android body double — it's just a small ball — but still! When you concentrate the ball will rise; relax and it will fall. Simply put on the wireless headset and use your brainwaves to move the ball through the obstacle course presented. If the game gives you a headache or fails to hold your interest, you'll probably end up in the Dread camp.
3D Your Face


Why wait for the year 2017 to see your face frozen in 3D on your surrogate when you can experience this creepy feeling today? Thanks to thatsmyface.com, you can get a life size portrait tile made of your face — or the face you plan to eventually put forward. Better yet, they'll put your head on a 14-inch MechRC Robot which you can then control. Using a game-style remote, make the new you perform some hardcore dance moves without even breaking a sweat. That's just a taste of what your robotic body will be able to do.
Split Your Personality


Companies like WowWee and Meccano are already mass marketing personal telepresence bots. You can buy the Rovio — a Wi-Fi enabled mobile webcam — that allows you to interact with those it encounters while you're someplace else. According to the company website, "You will always be just a click away from the people and places that are important to you." There's also the SPYKEE spy robot which, as the name implies, allows you to look on in secret while safely someplace else. Find out if leading a double life is as interesting as it sounds, or if you're bored in both places.
Trick-or-Treat at Anybots


Make your way to the IEEE meeting (Oct. 21, 6 PM) at the Anybots office in Mountain View, CA. The robotics company builds telepresence 'bots controlled remotely like the ones in Surrogates and they'll be showing them off. Can't make the meeting? Try trick-or-treating at their office this Halloween. Last year, their tele-operated humanoid robot Monty was the one handing out candy. Company founder Trevor Blackwell says, "We'll probably do the same thing this year, though we haven't actually organized it yet."
For those non-California dwellers, Blackwell says they plan to replace the contact page on their website with a "click here to drive a robot around our office" function. You'll literally be using a robot surrogate to walk through their front door. As you proceed, you might catch a glimpse of prototypes doing the dishes, pouring coffee and learning to run. (Rest assured, if these 'bots hurt themselves, you won't die in front of your computer screen.) You'll also be able to use a map to track down staff members and interact with them.
The future Greer and his toupee wearing 'bot face is coming: Anybots is beta testing now, and claims they'll have a helper available for purchase next year; neuroscientists are making progress on the brain-machine interface that will allow you to control the machine with your mind; and anyone following robotics in Japan knows they already look exactly like humans.
Read More