2012 Theme Song by American Idol's Adam Lambert Pops Up Early on Internet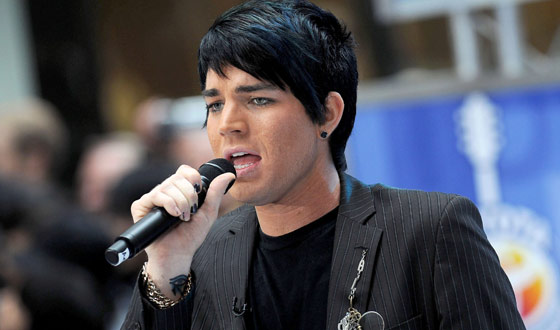 2012 Theme Song by American Idol's Adam Lambert Pops Up Early on Internet" width="560″/>

Adam Lambert's first post-American Idol single, "Time for Miracles" — the theme song to Roland Emmerich's upcoming apocalyptic flick 2012 — has leaked online ahead of its scheduled debut date of Oct. 27.
Last week a snippet of the song, paired with some of the movie's footage, premiered as planned on AOL's Moviefone website. The full version of the song and its music video were then supposed to premiere globally on Oct. 27 as part of a special 2012 promotional trailer tied to screenings of the Michael Jackson documentary This Is It. Instead, the track appeared prematurely over the weekend on the iTunes Store in Italy and, as expected, savvy techies quickly uploaded it to YouTube and other websites.
2012 stars John Cusack, Amanda Peet and Chiwetel Ejiofor
caught in the havoc of global destruction by fire, flood and
seismological disturbances on Dec. 21, 2012 — a date some believe is
predicted by the ancient Mayan calendar to be the end of the world as
we know it.
Emmerich's movie is an epic story that demanded a booming and
dramatic theme song, so earlier this fall, the proudly "glam-boyant"
Lambert recorded "Time for Miracles" with veteran music producer Rob
Cavallo, who's produced bombastic albums for Green Day, My Chemical
Romance and Paramore. Cavallo also produced several songs for Lambert's
upcoming major-label debut album, due Nov. 23.
The result of the Lambert/Cavallo pairing is a swelling power ballad
full of soaring guitars, orchestral flourishes, and a super-climactic
performance by Lambert who propels lyrics full of hope (a major theme
in the movie):
Baby you know that,
Maybe it's time for miracles,
'Cause I ain't givin' up on love…
"We wanted to match how epic the film is," Lambert told Rolling Stone,
"we wanted to reach out and grab people by the heart." The song is
reminiscent of Aerosmith's "I Don't Want to Miss a Thing" — the
blockbuster theme song from Michael Bay's 1998 disaster hit, Armageddon. The song was one of the biggest hits of the band's career.
Although the world can now hear the entire "Time for Miracles" song
earlier than planned, its music video is still under wraps until tomorrow when it premieres exclusively on MySpace Music. Last week
Lambert told MTV News that while the clip is primarily
performance-driven with him as the main focus, it does feature some
end-of-the-world moments: "There were a ton of extras on the set," Adam
said, "staging scenes reminiscent of what happens in 2012."
The special 2012 trailer that includes the "Time for Miracles" music video will premiere before screenings of This Is It starting on Oct. 27 — the same day the song will be available for digital download in the U.S. The 2012 soundtrack drops on Nov. 10 and the movie opens on Nov. 13.
Read More