Web Stalker – Who'd Classify Natalie Portman and Mila Kunis Going Girl-Girl as Horror?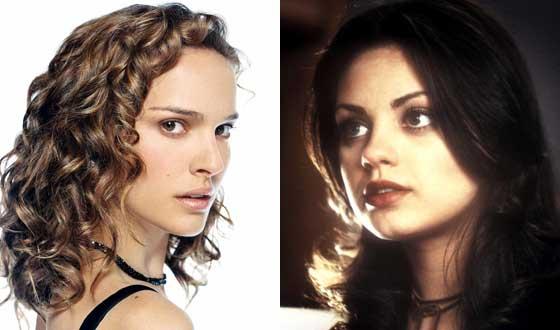 Pardon the salacious headline. But if the past week is anything by which to judge, merely floating the possibility that two of Hollywood's hottest young starlets will get sapphic onscreen guarantees that every red-blooded male in web world will spring to attention. Even if they're doing it in a weird supernatural flick about the psychological turmoil of dueling ballerinas.
What a difference from the reaction two years ago, when word got out that Darren Aronofsky was in talks to direct Black Swan! The blogosphere went mad then, too, but with panic — what did this mean for his much-anticipated reboot of the Robocop franchise? CinemaSpy fretted "Darren Aronofsky's next project could be the supernatural thriller Black Swan. If so, it might as well be named 'Requiem for a Robocop', at least as far as the director is concerned." Slashfilm went so far as to declare, "without Aronofsky behind the camera, I'm not sure I really care to see a new Robocop movie." Oh, for a more innocent time when fanboy fantasies focused on a futuristic cyborg who jetpacks his way to justice.
All that changed in June with the announcement that serious-minded actress/Star Wars goddess Natalie Portman would be Black Swan's star. "This project may not sound like anything extraordinary based on the premise alone, but I remain confident that [Aronofsky] can make it a masterpiece," mused FilmJunk. "Scoring Portman in the lead role certainly won't hurt. FirstShowing enthused, "Seeing Aronofsky and Portman work together would be a dream come true for me!" ScreenRant rounded out the happy-times chorus, pointing out that "there must be something interesting there if it caught Portman's eye and if it's Aronofsky's follow-up to The Wrestler."
All good points. Adding That '70s Show's Mila Kunis as the second lead didn't hurt either. But it wasn't until the most recent bit of news that the buzz on Black Swan reached fever pitch. ScriptShadow set loins ablaze en masse after scoring a look at the movie's script and announcing, "Can I just tell you why my review is absolutely pointless? Because in this movie, Natalie Portman and Mila Kunis have sex. Yeah. You read that right. And not just nice sweet innocent sex either. We're talking ecstasy-induced hungry aggressive angry sex. Yeah so…this movie is already on the must-see list of 2010."
Black Swan was suddenly a whole different kind of dream… and the crowd went wild! "It's amazing how one sentence can get me to see a movie….," sighed one commentator on Kunis' IMDB messageboard. "I think Aronofsky literally entered my brain one night, pulled out my most fervent fantasy, and decided 'all right, let's film it'," drooled another. They're also talking about the news over on the Black Swan messageboard, but that thread has taken a turn too X-rated to quote.
Collider.com went so far as to ask Kunis about the rumor directly, at a round-table talk about her latest movie, the Mike Judge comedy Extract. She remained coy: "I've heard about this from everybody. I mean, something got out. I can't really deny or confirm because I'm not allowed to talk about the script but all I'm going to say is that I can't imagine anyone getting their hands on this project. Does that make sense?"
Nope! Not really, although the "getting their hands on" part probably further inflamed already feverish imaginations. And FilmSchoolRejects, for one, urges everyone to rein in their fantasies just a bit. "The scene may not even end up being filmed. And if it is it may not even make the final cut," they argue. "And if it does it may make use of extensive body doubles. Neither actress has truly done nude scenes in the past… and I don't necessarily expect either of them changing that policy now. Sure, Aronofsky got Jennifer Connelly to disrobe and grunt in Requiem for a Dream, but I don't see Portman or Kunis bending to his whim so easily."
Talk about raining on our collective parade. Either way though, one thing's for certain: Any movie that gets this much buzz before so much as one frame of film has been shot — a movie about ballet, don't forget — it's unlikely to stop making headlines anytime soon.
And now it's your turn to weigh in: Does the girl-girl rumor immediately move Black Swan to the top of your mental must-see list?
Read More