Web Stalker – Rebecca De Mornay Playing One Bad Mother in Mother's Day Remake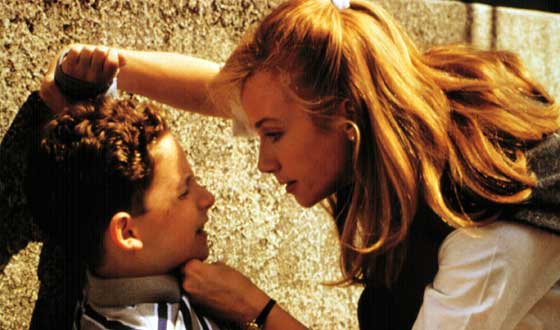 <img src="http://dev.blogs.amctv.com/wp-content/uploads/2009/09/hand-that-rocks-cradle.jpg" alt="" title=" Web Stalker – Rebecca De Mornay Playing One Bad Mother in Mother's Day Remake" width="560″/>


Remember The Hand That Rocked the Cradle? Anyone who wasn't bloody terrified by that movie has Web Stalker's undying respect. Rebecca De Mornay's crazed nanny eyes, that imperiled bouncing baby, those creepy breast-feeding scenes… shudder. And now, after a decade or so of steady, but uninspiring work, De Mornay is headed back where she belongs, claiming her rightful spot at the tip-top of the cast of Darren Lynn Bousman's remake of the Troma gorefest Mother's Day — and not a moment too soon!
ShockTilYouDrop first broke the remake news in August 2008, when early rumors had much-reviled movie-killer Brett Ratner signing on as producer and Saw veteran Bousman circling to direct. The site wondered, "Is this a redo horror fans will embrace or is Kaufman's original cult classic too sacred to touch?"
The answer by and large is a resounding "yes," as the plentiful comments at ComingSoon.net suggest. "So, big Hollywood is starting to steal Troma's movies now…" sneered one (ouch!), as another summed up the consensus: "My reaction: 'Brett Ratner is producing a remake of Charles Kaufman's 1980 horror flick, Mother's Day…' Ugh. 'Repo! The Genetic Opera helmer Darren Lynn Bousman has been approached to direct:' Yay!!! 'P2's Franck Khalfoun is writing the script:' Crap crap crap… It's official. This will suck horribly."
Nerves settled over the course of the next year as the project quietly stagnated. Then, in early August, DreadCentral stumbled across the news that "everyone's favorite sexy and angsty vampire teen from HBO's hit series "True Blood," Deborah Ann Woll, is the first to sign up for psycho duty in Mother's Day!"
Most bloggers were neutral on the casting news, focusing instead on the high gore factor Bousman's Saw acumen would likely bring to the table. As ComingSoon.net summed up, "We all know Woll has the chops to play a villain, but with Bousman at the helm fangs are most likely to be the least of this new family's worries." Empire chimed in as well, explaining that the remake's plot would feature a new cast of crazies torturing the new inhabitants returning of the house where they grew up, and that "With Saw II's Darren Lynn Bousman behind the camera, don't expect them to be there to help with the washing up." (Har.)
So many jokes, so little time! No matter though — in short order, additional casting was announced, including newly ubiquitous horror presence Jamie King, Repo! The Genetic Opera star Alexa Vega, and X-Men's Shawn Ashmore. Then, on Aug. 31, Bousman himself took to Twitter to announce, "OK, I held off all I could… Drum role please….. Your new Mother is none other than REBECCA DE MORNAY!!!" He later told the
Hollywood Reporter, "Every time you look at (Rebecca), she is on fire, and to take her to this level, which is like her role in 'Hand That Rocks the Cradle' times a thousand, is exciting. She is not some Freddy Krueger or Jason, so it was important for me to get a real actress."
The inspired casting of De Mornay in the deranged-mother role was just the shot of adrenaline this seemingly middling project needed. "This looks like the kind of remake I like: the original was released almost 20 years ago and was underwatched save for a few Troma and exploitation super-fans, now the vague concept returns but in a different way that will bring us new horror and characters," starts the Latino Review's film blog, before concluding, "Not to mention Rebecca De Mornay is hot. Still."
Pretty much every commentator over at Bloody-Disgusting agrees, as comments like "DAMN! She is MILF-tastic," "She's perfect!" and "I've been excited about this from the get go, but now I can't wait" make plain.
What do you think? Are you feeling Bousman's ecstatic glee over casting De Mornay as oe bad mother, or does her participation inspire a mother-load of meh? Web Stalker is reserving judgment until the first photos hit the web. Til then…
Read More