TIFF 2009 – Clooney Demonstrates His Psychic Ability With The Men Who Stare at Goats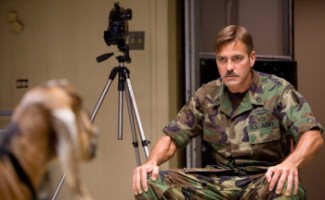 It's not hard to find strange movies at the Toronto International Film Festival: In the past week, you could have enjoyed a musical set in '50s Russia set in the underground world of swing dancing with Hipsters — or a surreal, sweet, G-rated comedy told through stop-motion animation done with '60s-era toys in A Town Called Panic. And it's not hard to find stars in Toronto, either, as you can tell from our coverage here at AMC, with stars from Viggo Mortensen to Matt Damon sitting down for chats.
One movie at this year's festival, however, combined strangeness and star power — Grant Heslov's The Men Who Stare at Goats, which stars Ewan McGregor as a reporter who stumbles across a veteran (George Clooney) of the Army's psychic warfare program. Based on a non-fiction book by Jon Ronson, the high-powered cast includes not only Clooney and McGregor but also Jeff Bridges and Kevin Spacey. Clooney, McGregor and Bridges were all up in Toronto to push the movie through non-psychic means, from an exclusive party (where Robert Duvall and Peter Sarsgaard competed with live goats for partygoer's attentions) to the film's rollicking press conference.
For example, when a female reporter asked Clooney what psychic ability he'd most like to have, the star shot his answer back deadpan while fixing her with his stare: "I'm doing it right now. Wow, and congratulations." Meanwhile, Jeff Bridges lapsed into Lebowski-speak dissecting the movie's jokes about the fact the Army spent millions on researching psychic abilities. "I think there's nothing more funny than someone who takes themselves seriously," said Bridges. "Also, there may be a lot of silliness going on — all these different kinds of paranormal things — there's a silliness to it, but the idea of trying to get past warfare is a beautiful idea. I think everybody in the world can relate to that. We need to figure out a way to stop killing each other, disagreeing with each other, you know, figure it out!"
Asked why he had a bandage on his hand, Clooney answered point-blank: "Punching Ewan in the face." (Actually, the cause was a minor mishap with a car door; Clooney will be right as rain in a few weeks: "Car's fine too — thanks," Clooney elaborated.) The star kept the laughing going when answering the final question as to how the cast and crew tried to take the very American story of The Men Who Stare at Goats and make it universal: "Well," Clooney thoughtfully explained, "dubbing it into multiple languages always helps."
Read More