TIFF 09 – AMC News Fall Movie Preview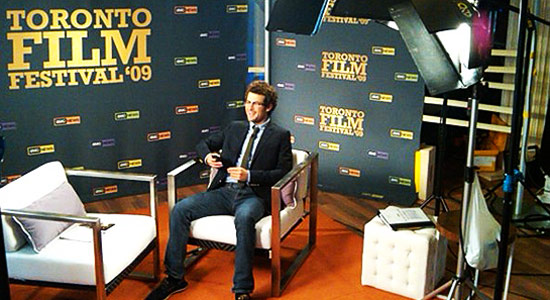 All this week AMC News will be bringing you our on-air and online coverage
of the 2009 Toronto International Film Festival. As the New York Times
reported, this year the festival opened not as usual with a Canadian film, but with a
British one, Creation, about the life of Charles Darwin starring Paul Bettany and his wife Jennifer Connelly.
Over the weekend, we set up shop in our TIFF09 studio (see picture above) high above the streets of Toronto (check out our view) and I sat down with some of the big names from the most-talked-about films at TIFF. Here's a rundown of what upcoming movies you can expect to learn about on AMC over the course of the next week (including a video preview after the jump from the terrace outside our studio), a description of each (courtesy of TIFF), and which stars and filmmakers I had a chance to talk to.
Flash_embedSWF("http://media.www.amc.com/video-players/amc-viral-2009-bc2.swf","amc_oneclip_amcnews","#ffffff",460,390,"bctid=40259328001&s_url="+document.URL+"&s_referrer="+document.referrer);
The Men Who Stare at Goats

George Clooney, Ewan McGregor, Kevin Spacey and Jeff Bridges are in top form in this uproarious tale about a top-secret brigade of psychic soldiers trained in New Age warfare. Amazingly, it's based on a true story.
I sat down with Jeff Bridges, Ewan McGreggor and Director Grant Heslov at
our set. Click to see photo.
The Informant!
Structured as a whistleblower drama but styled as something much more
playful, this is Soderbergh at his most engaging. In a story based on
Kurt Eichenwald's non-fiction book, Matt Damon stars as Mark Whitacre,
an Ivy League Ph.D. holder now working as an executive at agricultural
corporate giant Archer Daniels Midland (ADM). Their unofficial motto:
"Corn goes in one end and profit comes out the other.
I went to the premiere of The Informant! and interviewed Matt Damon, Scott Bakula and director Steven Soderbergh, among others. See photos here. Click here to learn more.
The Road

Along a dusty grey horizon, a father and son slowly plod. They push a
shopping cart filled with their scant, grime-covered possessions — all
that they have are a few tattered rags, a gun with two bullets and an
unflagging love for one another.
Director John Hillcoat, Viggo Mortensen and Kodi Smit-McPhee came by our set and sat down with me. Click here to learn more.
A Shine of Rainbows
Set in a small village on wind-swept Corrie Island, just off the coast of Ireland, A Shine of Rainbows is a heartwarming film that follows an orphan's struggle to find acceptance and belonging in his new home.
Aidan Quinn came by our set for a chat. See the
photo.
Solitary Man

[Ben's] world has collapsed
around his ears. A business scandal has cost him his income and his
marriage to Nancy (Susan Sarandon). His ever-present lust for every
passing attractive woman threatens to take what little Ben has left.
Michael Douglas spent some time on the set with me. Click here to learn more.
Whip It!

The setting is the world of roller derby, that discredited seventies
sexploitation sport now transformed into a grassroots phenomenon
sweeping a certain sector of America's female population. Often working
class and with a fondness for tough-girl noms de sport ("Sandra Day
O'Clobber" is a personal favourite), these devil-may-care women have
built an increasingly successful sports movement.
Eve, Juliette Lewis and Marcia Gay Harden came into the studio for some very fun conversation. Click here to learn more.
I Am Love
Handsome grandson Edoardo introduces his new girlfriend to the family; his sister, Elisabetta, presents a painting she has made to her grandfather; a young man who beat the unbeatable Edoardo in a race earlier in the day makes a surprise appearance on the doorstep; and finally, the grandfather announces his succession plan to his family. All of these events mark the beginning of a narrative that sees the carefully controlled, hyper-refined sphere of the Recchis come under increasing strain.
My last interview of the festival was with Tilda Swinton and director Luca Guadagnino. Click here to read about our conversation.
Read More