Sorority Row's Audrina Patridge Talks Scary Movies and Frenemies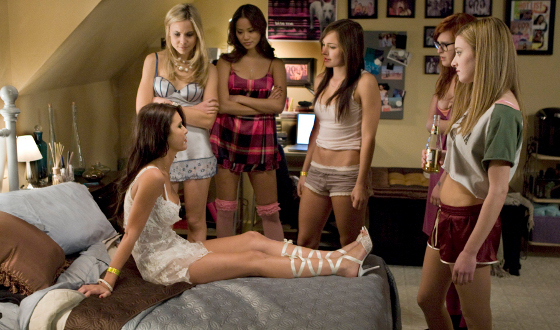 Sorority Row's Audrina Patridge Talks Scary Movies and Frenemies" width="560″/>

MTV reality starlet Audrina Patridge (The Hills) makes her big-screen debut this weekend in Sorority Row, a remake of the 1983 campus-slasher movie The House on Sorority Row. Horror Hacker caught up with Patridge to discuss her budding career as a scream queen, favorite cheesy horror movies and even a little Hills gossip.
Q: How has the transition been from The Hills to the big screen?
A: It's my first feature film, so it's really exciting. I have a small role, but it starts the movie off. My character is mentioned throughout the whole movie, and you don't know if I'm the killer or if I'm not.
Q: Tell us about your character.

A: I play Megan. Her boyfriend cheats on her, and basically, if you cheat on one Theta Pi, you cheat on all Theta Pi. So all my sorority sisters get together to play a prank to get back at my cheating boyfriend [Matt O'Leary]. And it's a prank that doesn't go according [to plan]. That's what starts the movie off…
Q: The trailer has an I Know What You Did Last Summer vibe.
A: Yeah, and [my role] is kind of like Scream, how Drew Barrymore was in the beginning.
Q: Did coming from reality TV prepare you for making movies?
A: Being on The Hills definitely made me very comfortable in front of the camera. But [a movie] is totally different than reality [TV]. For reality, you know, I show up for lunch for two hours and then I'm done. On a movie, you have a script and it's more challenging. I love that, and that's what I want to do more of.
Q: Were you familiar with the original House on Sorority Row?
A: As soon as I read the script, I went out and I rented the 1983 version. It was very interesting, kinda cheesy because it was the '80s. I think ours is a little better, it puts more of a modern twist on it. I love that [Sorority Row] is a horror film that keeps you guessing. You don't know who the killer is, but it's also very funny with some great one-liners.
Q: It's definitely in keeping with the fun, old-school Friday the 13th style of horror. Are there any cheesy horror movies that you love?
A: Cheesy? Yeah, Child's Play. I love The Exorcist — it scares me every time I watch it. I just watched Mirrors, which was really scary. Now every time I look into a mirror I think someone's on the other side staring at me.
Q: Since you were all playing sorority sisters, was there much bonding on set? Or were there a lot of "frenemies" like on The Hills?
A: Coming from The Hills where there's always drama and cattiness, I'm thinking "Oh no, I'm going into this film with five other girls. It's going to be like The Hills all over again." But when I showed up, we all just clicked. We all stay in contact — we go out to dinner, salsa dancing, get manicures and pedicures. It was really great, because I made a lot of new friends who are actresses and understand where I'm coming from and want to do the same things I'm doing.
Q: Are there any upcoming roles you can talk about? I heard a rumor you might be in the upcoming Nightmare on Elm Street remake.
A: I never heard that rumor! I'll have to check that out and maybe go in and audition for it. Right now we're focusing on finishing up The Hills, and after that I segue into a new show on MTV with Mark Burnett (The Apprentice). It'll be about my love life, relationships, friendships, my family, going on auditions, falling down and getting back up. Basically how Hollywood is not as glamorous as it looks. It's going to be a little spicier and edgier [than The Hills].
Read More