Sorority Row Review – Kiss the Girls and Make Them Die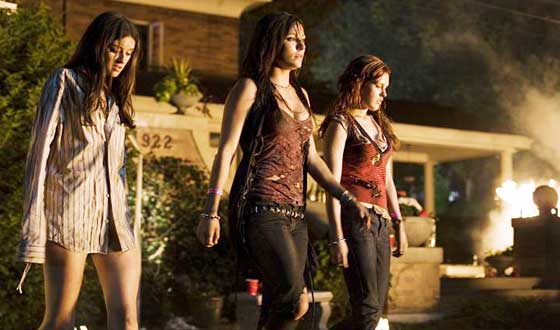 Sorority Row Review – Kiss the Girls and Make Them Die" width="560″/>

Welcome to Skank Ho sorority, the pride of No-Name University, in the middle of Anywheresville, USA! In keeping with the proud tradition of the Greek system, you and your sisters will make connections, form lasting friendships and help one another learn skills that will stand you in good stead throughout your lives, including how to make a drunken spectacle of yourself at parties, shower in full makeup, screw your shrink for prescription meds, bare your boobs at every opportunity, humiliate lesser girls and cover up mistakes that might tarnish your bright future. Like, say, the grotesque death of a dear friend during a mean-spirited prank.
Of all the mean girls of Theta Pi, where being a nasty bitch is only slightly less important than having a nice rack and perfect hair, the meanest is Jessica (Leah Pipes), a honey blond user who's just nailed her MRS degree to the handsome son of a senator. Her posse can't hold a candle to her relentless, self-centered social climbing, though some try harder than others. Chugs (Margo Harshman) is the house pump, Cassidy (Briana Evigan) is the principled one, Claire (Jamie Chung) is the cutie and Ellie (Rumer Willis) is the brain who would never have been invited to pledge if Jessica hadn't spotted this patsy to write her term papers. And then there's Megan (Read our interview with Audrina Patridge, of TV's The Hills), the betrayed one: Jessica's plan to uphold the honor of all Theta Pis by punishing Megan's straying boyfriend, Garrett (Matt O'Leary), is the catalyst that turns their gilded lives into a blood-soaked nightmare.
At the Theta Pi senior year kick-off party, Jessica maneuvers Garrett into slipping roofies (fake, of course) into Megan's drink; Megan then feigns a fatal seizure. The girls — who include Garrett's older sister, Chugs — offer to help him out by disposing of Megan's corpse. Jessica takes the joke too far by suggesting that they dismember the body first, and before anyone can stop him Garrett has picked up a discarded tire iron and killed Megan for real. Oops. Jessica persuades the others that their lives will be ruined if they call the police; only Cassidy makes more than a token protest, which Jessica quells by threatening to blame the whole thing on her. They dump the murder weapon and the body into an abandoned mineshaft and swear never to tell.
Fast forward to graduation day, three months later… Hey, wait a minute: Wasn't that party at the beginning of senior year? Wow, this No-Name University is great! Anyway, three months later, as the girls prepare for their end-of semester blowout, they start getting threatening messages from Megan's phone. One by one, the sorority sisters and their boorish boyfriends disappear, murdered by a hooded figure with a murderously pimped-out tire iron. Has the guilt-ridden Garrett gone off his rocker or is Megan still alive and mighty mad at her so-called friends?
A slick remake of writer-director Mark Rosman's 1983 House on Sorority Row (though the onscreen credit coyly reads "based on the original screenplay Seven Sisters," the original movie's working title), Sorority Row is efficient, bloody and thoroughly forgettable. There's nothing really wrong with it: The performances are fine (though not one of the hot babes can touch Carrie Fisher's turn as Theta Pi's shotgun-toting house mother), the murder sequences are viciously inventive and the attractive leads spend plenty of time in short dresses, cleavage-baring tops, bath towels and pretty panties. But there's also nothing conspicuously right with it, either: It's formulaic, predictable and ultimately pretty dull. Let's hope it inspires some horror newbies to check out the classics. There's a first time for everything, after all.
Read More