Scarlett Johansson Channels Her Inner Bardot on New Album Break Up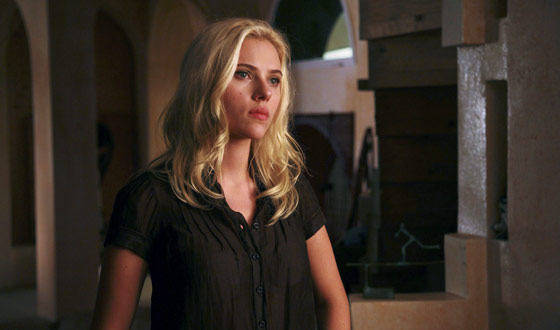 <img src="http://dev.blogs.amctv.com/wp-content/uploads/2009/09/scarlett-johansson-560.jpg" alt="" title="Scarlett Johansson Channels Her Inner Bardot on New Album Break Up" width="560″/>

Scarlett Johansson is living a double life. She's primarily known as an accomplished actress with roles in Lost in Translation, Match Point, Vicky Cristina Barcelona and next year's Iron Man 2, in which she'll work a Russian accent to play the leather-clad, raven-haired Natasha Romanoff (aka Black Widow). But acting isn't Johansson's only gig. In the past few years she's also been slowly building a music career. With last week's release of Break Up — a duets album she recorded with singer/songwriter Pete Yorn — Johansson is moving into the realm of actor/singer.
Break Up was initially inspired by the late 1960s duet recordings of French singer/actor/director Serge Gainsbourg and European bombshell Brigitte Bardot, best known for their 1968 album and song, "Bonnie and Clyde." Yorn would play that song as part of his house music during his 2006 concert tour. One afternoon, after the tour had wrapped, he awoke suddenly obsessing about creating a duets album like Gainsbourg and Bardot.
Yorn immediately thought of Johansson, whom he had met through his brother, as his Bardot-like singer for the album. He told Billboard magazine, "Within ten minutes, I was texting Scarlett, 'We have to make a record!'" Yorn knew she was dabbling in music but had never actually heard her sing. Johansson quickly texted back and agreed to the project.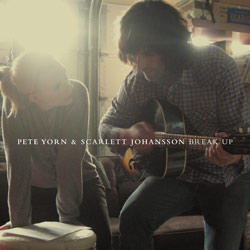 All of the songs for the album were composed by Yorn except for "I Am the Cosmos," a cover of a 1978 song by the late Chris Bell, former lead singer of '70s rock band Big Star. Yorn envisioned his album as a song cycle documenting two characters who are vacillating between breaking up and making up. "It sounded like an interesting little adventure," Johansson said in a statement about the project. "The idea of two people vocalizing their relationship through duets."
Working with record producer Sunny Levine (grandson of Quincy Jones), Yorn recorded the music in a small Venice Beach studio. In January 2007 he called Johansson in to lay down her tracks. She approached the recording sessions like a film role: Arriving at the studio, she learned the arrangements and lyrics, inhabited the character created in the songs, recorded her tracks in two afternoons and then she was done. "My whole job is forming intimate relationships with people I've never been involved with," she told Rolling Stone. "It wasn't half as embarrassing as faking sex on camera."
The result is a half-hour collection of nine breezy, roots-rock duets that would feel right at home on '70s AM radio or wafting out of Laurel Canyon in the days of Dusty Springfield and The Mamas & The Papas.
The album's first single is "Relator" — a galloping rockabilly track released this summer along with a music video. Johansson and Yorn recently performed the song live on French television (watch the clip) and there may be more performances and a possible second single, "Blackie's Dead." Click here for more information on Break Up and to watch the "Relator" video.
Reviews for the album have been somewhat mixed, which is to be expected when any well-known actor records an album (see Jamie Foxx). Billboard magazine called Break Up "…a short, sweet winner," while The Washington Post referred to it as "…an ankle-deep throwaway of an album." Inevitable comparisons have been made to the retro sounds of She & Him — the recording duo made up of actress Zooey Deschanel and singer/songwriter M. Ward.
That comparison is partially unfair since Break Up was recorded before the release of She & Him's Volume One. And this isn't Johansson's first foray into music. Besides contributing jazz standard "Summertime" for the 2006 charity album Unexpected Dreams: Songs from the Stars, in 2007, she joined The Jesus and Mary Chain on stage at Coachella for a live rendition of "Just Like Honey" — a song of theirs heard in Lost in Translation. Johansson then took the big leap in May 2008 with her debut album Anywhere I Lay My Head — a collection of ten obscure Tom Waits covers plus one original tune, "Song for Jo," that she co-wrote with the album's producer, Dave Sitek (of TV on the Radio). The album, which was actually recorded after Break Up, debuted at #126 on the Billboard 200 album chart. Since then it's sold around 19,000 copies.
Later that year Johansson released an iTunes EP of seven songs including a cover of "Boys Don't Cry" by The Cure and participated in will.i.am's Obama rallying song "Yes We Can." Recently she recorded another cover, Jeff Buckley's "Last Goodbye," for the soundtrack to her rom-com He's Just Not That Into You.
With her song selections and musical taste it's clear that Johansson is decidedly keeping a low profile in the music industry. Instead of aiming for Top 40 hits, she's choosing to cover challenging or obscure songs and work on material with indie-cred musicians and producers. It's in this realm where she joins Deschanel and other actors like Minnie Driver, Toni Collette and Ryan Gosling who are also slowly building low-fi music careers in addition to their high-profile Hollywood day jobs.
Read More