Uncategorized
Q&A – Juliette Binoche Likes to Keep Her Resume International, Beyond Paris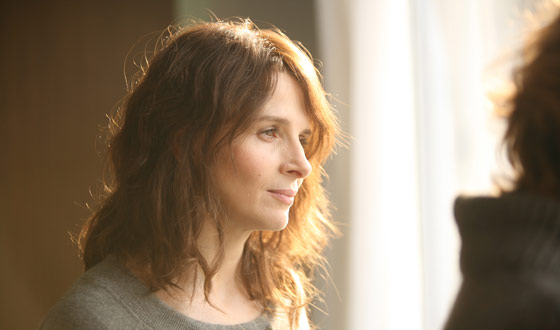 Juliette Binoche is the central figure in Paris — and not just because she's France's premiere leading lady. In her latest movie, it's Binoche's character whose story ties everyone else's together in a way that reveals not only her own personality, but that of the title city. Binoche explains why she seeks an international resume, and how that works with her recent extracurricular activities in painting and dance.
Q: With Paris and Summer Hours, it seems like you're focusing on making movies about France again… versus the period were you seemed to be more interested in global issues?
A: I take it as life gives me, you know? It just happened that during that year, I did five films in a row, but they were short, because I was not always doing the big parts. I think that I was not very happy in my personal life, so I thought, "I want to do something positive that makes me feel creative and happy, and to meet different minds and visions and to be alive." And of course I was happy to stay at home because of my kids, so it just happened that it was the right thing for me to do then. But I always have this desire to work with foreigners and not stay within my boundaries, open up to something else and other minds and stories.
Q: What do you get from different directors from different countries?
A: There's something you recognize in art — you recognize
something you know — and when you have this connection, it's beyond
language, beyond religion, beyond country, and beyond past. I always
love the way Anglo-Saxons work, they like the teamwork. In France, it's
more of a hierarchy, the director and the others. I like to balance and
try to work all these different ways, because then I have to try to
adapt, and I change from the adaptation, I have to transform myself.
With Asian people, well, Hou Hsiao-Hsien has been
unconventional, he's inventing his own way of shooting. But I think
there's a link between him and Abel Ferrara as well as Amos Gitai,
because the need of freedom, the need of creating life, and how do you
do that in front of a camera? So even though they come from very
different places, I recognize the same need.
Q: Do you change your approach based on the director, or do they change because of you?
A: It goes both ways. When I worked with John Boorman on In My Country,
he was in control. He was behind his monitor, and he only wanted to do
one or two takes. And after the first week, I thought, "I can't act. I
can't do this. I can't get through it." Because I needed to do so many
things, I had the accent, I had the ethical things, and there was no
silence to help you get into a specific place. But then he said, "Let's
change the way we're doing this." So he would ask if I wanted to do
another take, and instead of being in another room besides his monitor,
he would stand next to the camera — which is so rare! — and it
changed the whole deal.
Q: For your collection Portraits — In Eyes, do your directors sit for your illustrations?
A: Oh, no, not at all! It's from memory. What stays in me, after
all this time. With directing, there's a game there. You work together,
and yet, there's an equilibrium you've got to find, and trust as well.
With my portrait of Cédric Klapisch, who directed Paris,
I was saying I wanted to go further. To me, that's not a negative. It
means there's a place we can go together. And that's what we tried to
find. He's a bit of a comic, he likes light spaces. And I think he
wanted me to be in this film to give it weight, depth. And yet it was
more fun to create scenes that were more in his world. I'm thinking of
the scene when I go to see the girl to signal to my brother who's
watching through the window whether she's available, and I'm saying
with my gestures, "It's working!" And then her boyfriend comes over.
And Cédric actually made an expression of the feeling he was hoping I
was going to have. And suddenly I could see him directing me not with
words, but with something more mysterious. For me, that expression, it
was a sensation.
Q: Since you're now interested in dance — what with your dance-theater tour In-I — did you work with Cédric on incorporating that in your striptease scene?
A: I didn't dare tell him! [Laughs] I just had fun with it. It's
more about the complicity with the man, about making him laugh and to
tease him, than to be sexy… Although then it is!
Read More