Mary Robinette Kowal – The Fantastic Stylings of David Bowie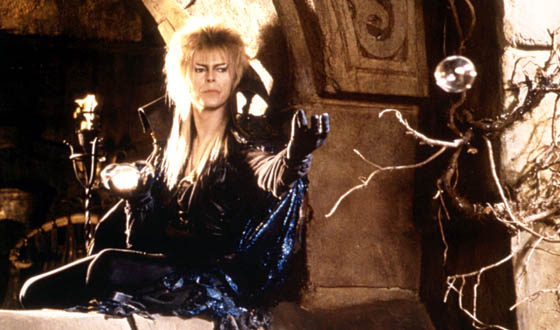 Even before he made the transition to acting, David Bowie had an otherworldly air about him. His three year stint as Ziggy Stardust wasn't just about wearing a costume; it was about creating an entire world and history for a character. It's no surprise, then, that Bowie's movie career has taken good advantage of that eldritch nature, casting him in roles that are just a step to the side of a mortal. Herewith, the (mostly) fantastic movie career of The Thin White Duke.

Mr. Rice's Secret (2000)
This is one of those "movies I watched so you don't have to." Though Bowie does a fine job with the role he's given, he's been horribly, horribly miscast. Sure, using his otherworldly qualities to represent the enigmatic Mr. Rice sounds good on paper, but David Bowie in flannel? There are many things he can do, but looking ordinary is not one of them. On top of that, Mr. Rice is masquerading as a teacher. Even at his most benign, Bowie exudes a dangerous sexuality, which is the last thing you want for a teacher who happens to be your teenage son's "special friend."

Twin Peaks: Fire Walk With Me (1992)
Admittedly, Bowie's role in this just a bit part — but he's so good at it. His character appears out of nowhere after living the last two years "in a nightmare," and he makes you believe it. Whatever that's happened to him is so visceral, it seems almost natural when he vanishes into thin air. It's a tribute to his ability to appear so "other" that his absence is more unnerving than his presence. When he's in front of the camera, he creates a sense of danger and just plain weirdness.

The Hunger (1983)
David Bowie is a vampire. What could be more obvious? It's how he stays so attractive and ageless, right? Now, The Hunger has one of the worst movie trailers of all time — but if it doesn't dissuade you, the movie itself manages some interesting meddling with the vampire genre. Bowie exudes a sensually dangerous charisma, of course, but the tricky thing is that he plays an immortal who ages. The horror of that realization is more powerful than any of the blood and gore leading up to it.

The Man Who Fell to Earth (1976)
Although this Walter Tevis adaptation is technically science fiction, I'm including it in the mix because it shows off Bowie's range. Mr. Sussex's progression from idealistic alien to disenfranchised and broken man demonstrates why this flick has become a cult classic. Bowie is at his most innocent here, and the spirit of discovery is charming. The bitterness that comes later shows that Bowie can do far more than appear beautiful and inhuman — even when he's appearing beautiful and inhuman.

The Prestige (2006)
I have to say that I really enjoy older Bowie. The years have rubbed away some of the sensuality, but none of the feyness. As Nikola Tesla, he creates the sense that he has parted some sort of veil and stepped out into the real world. Danger lingers behind his mismatched eyes along with an intelligence that makes you really believe he could concoct an incredible machine like the one driving The Prestige's plot. Terrifying, and at the same time, totally natural for Bowie. Just like his most cherished fantasy role…

Labyrinth (1986)
This may well be one of the most perfect pairings of actor and role in fantasy. Every facet of David Bowie comes into play as Jareth, the Goblin King. His eldritch nature would dominate the screen even without the fantastic glam rock wardrobe. His dangerous sensuality creates exactly the peril that would most seduce a teenage girl like Sarah (Jennifer Connolly). And of course, he sings. There is no doubt that David Bowie is the Goblin King, and he owns the Labyrinth.

Mary Robinette Kowal is the winner of the 2008 John W. Campbell Award for Best New Writer and a professional puppeteer. Her first novel Shades of Milk and Honey is being published by Tor in 2010.
Read More