Uncategorized
Flashback Five – Jude Law Gets His Real-Life Cheaper by the Dozen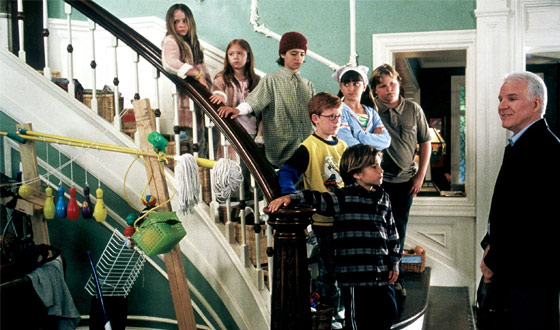 Someone get Jude Law a cigar! The Sherlock Holmes star's fourth child was born this week in New York City. The baby girl was born to Law's erstwhile tryst partner Samantha Burke and joins Law's growing brood, which includes three by a previous marriage with actress Sadie Frost. A non-traditional family, to be sure, but at the movies, non-traditional, gigantic families have been the norm for years. Of course, how they presented the phenomenon has totally changed over time…
1. Cheaper by the Dozen (2003)
First a 1948 book, then a movie, then a Steve Martin vehicle, Cheaper by the Dozen was based on the true life experiences of Frank and Lillian Gilbreth, who raised (you guessed it) a dozen children on their own. In the 2003 movie, conflict arises when the mother goes on a book tour, and the dad has to take care of his college football team, and despite some initial anarchy, everything turns out OK. So post-millennial!
2. Angela's Ashes (1999)
Based on Frank McCourt's memoir of his large family moving back to Ireland from America, this flick's family comprised anywhere from four to three children at any given point. (Sadly, many of the children died from malnourishment and terrible living conditions, and others popped up to take their places.) Though released in the '90s, the movie takes place in the '30s or '40s — when having tons of kids wasn't funny at all, because you really had no say in the matter.
3. Eight on the Lam (1967)
Is Eight on the Lam the exact opposite of Angela's Ashes?
Pretty much: When Bob Hope discovers $10,000 in cash in a parking lot,
he has to take all seven of his children, you guessed it, on the lam!
Hijinks ensue as they are chased by Jonathan Winters' dim-witted cop,
who also plays his own mother. Clearly, no one in the '60s thought
having too many kids was anything to cry about.
4. The Sound of Music (1965)
The movie adaptation of the '40s-set stage musical stars Julie Andrews
and seven adorable moppets, charming hearts across the universe for
decades to come. How realistic is it that a nun of that era would have
taken on seven Nazi-avoiding children, and live to tell the tale? Well the Von Trapps are a real family, so clearly those desperate times certainly called for
desperate measures. The real takeaway here is that it's never a bad
idea to make sure your family can sing.
5. Seven Brides for Seven Brothers (1954)
Speaking of singing, what are seven brothers all alone in the woods to
do? If you're the lumberjacky Pontipee boys, you kidnap seven women
from town, and force them to love you over the course of a long winter
trapped in the hills together. They really did things a wee bit
differently back in the '50s, didn't they? Luckily, kids today have the
Internet. And TV. And Wii.
Honorable Mentions:
1. Punch Drunk Love (2002) –
Adam Sandler plays the youngest of eight in this offbeat drama, and the
only boy. Quiet and introverted after having been constantly dominated
by his sisters, the movie shows that even girls can be bullies when
part of a large brood. Right now Law has a 50-50 ratio going on, so, so
far so good.
2. The Brady Bunch Movie (1995) –
Have things changed so much since the '70s that it's somehow acceptable
to laugh at the idea that a step-sister and her new step-brother will
be desperate to get in each others' pants, and if they have enough
siblings no one will notice? Apparently.
3. Avalon (1990) – Part
of what makes the turn-of-the-century Polish-American family in this
Oscar-winning flick unique for this list is the sense of obligation to
enter the family business. Not a problem for Law's kids, unless things
take a turn for the worse.
4. Yours, Mine and Ours (1968) –
This movie and the 2005 remake depict what happens when an eight-child family and a
ten-child family get brought together by marriage, which is: Total
anarchy. Now we have Octo-Mom. The more things change…
5. How Green Was My Valley (1941) –
Part of the joys of having six strapping sons is that the youngest
won't have to go to work in the coal mines… Unless things take a turn
for the worse. This should feel like a snapshot of a bygone era, but thanks to the recession? Not so much.
Read More