It's Emmy Night! Which Oscar Winners Are Likeliest to Crash the Party?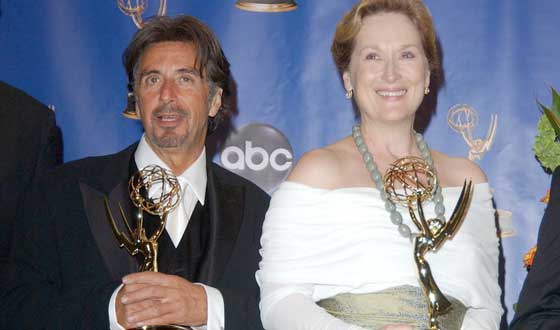 Some actors lust after just one award. Of course, these are the easily satisfied ones: An Oscar or an Emmy and they're all set! But there's a special breed of actor for whom no amount of statues can satisfy their insatiable greed for recognition, and these uber-ambitious folks transcend media by winning the two most prestigious awards in their chosen profession: The Emmy and the Oscar. And the most impressive Emmy and Oscar winners are …

Al Pacino
Pacino had to wait years and years to finally win his Oscar, which he earned for Scent of a Woman (1993). After six losses, Pacino received two nominations that year and finally took home the gold. The Emmys were a bit kinder; he didn't have to listen to anyone's name read as the winner even once. In 2004, he was nominated for, and won, Outstanding Lead Actor in a Miniseries for Angels in America, an adaptation of Tony Kushner's play about the AIDS epidemic.

Dustin Hoffman
Pacino isn't the only big-time star who got an Emmy by starring in a TV adaptation of a legendary Broadway play. In 1986, Hoffman took home the Emmy for his portrayal of Willy Loman in a TV version of Arthur Miller's Death of a Salesman. Of course, Hoffman was no stranger to awards. He had already won an Oscar for Kramer Vs. Kramer (1979) and received nominations for The Graduate (1967), Midnight Cowboy (1969) and Tootsie (1983).

Helen Hunt
While
many big-screen stars, like George Clooney and Tom Hanks, got their
start on television, Hunt is the rare star who won an Emmy as a sitcom
cast member and went on to win an Oscar. In fact, 1998 was pretty much
the year of Helen Hunt. She took home her third straight Lead Actress
Emmy for Mad About You and also won Best Actress for As Good as It Gets (1997). Not a bad haul for an actress who's pretty much vanished from the spotlight since then.

Jeremy Irons
Though
his name isn't as well-known as many on this list, Irons one-ups many
of them: He's won a Tony as well! After taking that one home in '84,
Irons wasted little time, winning the Best Actor Oscar in 1991 for Reversal of Fortune (1990). Though it would take some time to complete the trifecta, the man who battled Bruce Willis in Die Hard With a Vengeance (1995) eventually took home a Supporting Actor Emmy for Elizabeth I (2005).

Jessica Tandy
Part
of the exclusive triple award-threat club (Emmy/Oscar/Tony), Tandy had
to wait 42 years to complete her hat trick. After winning a Tony in
1948 for A Streetcar Named Desire, she lost out on the role in
the movie to Vivien Leigh who, of course, won an Oscar. As Tandy neared
her eighth decade, she had a career renaissance: At 79 she won an Emmy
for the TV movie Firefox (1987) and in 1990 took home an Oscar for Best Lead Actress in Driving Miss Daisy (1989).

Meryl Streep
America's most celebrated actress is no stranger to awards. As of this
writing, she's won two Oscars and been nominated for an astounding 15!
But before banking her first Oscar for Kramer vs. Kramer, Streep took home the 1978 an Emmy for Holocaust
(1978), a poignant mini-series about a Jewish family in Nazi Germany.
Streep, unsurprisingly, had more TV success to come and later won
another Emmy for Angels in America.

Paul Newman
Newman won a lifetime achievement award at the Oscars a year before he got his first Best Actor nod for The Color of Money (1986). The 27-year delay between his win and his first nomination for Cat on a Hot Tin Roof
(1958) was rivaled by the time between his first Emmy nom and his first
(and only) win. Newman was nominated in 1981 for directing the TV movie
The Shadow Box, but it was 24 years later that he finally took home a statue for the miniseries Empire Falls.

Robert Duvall
Duvall, like Newman, had a tough time actually winning awards, though
he's had no shortage of chances. After being Emmy-nominated for Lonesome Dove, Stalin, and The Man Who Captured Eichmann, Duvall finally took home a statue for AMC's Broken Trail in 2007. The Oscars were equally tricky: Though nominated for The Godfather (1972), Apocalypse Now (1979) and The Great Santini (1979), it took until 1994 for Duvall to win for Tender Mercies (1983).

Sally Field
Field,
like Tandy and Streep, is a movie legend who got her Emmy before her
Oscar. In 1977, she won an Emmy for Outstanding Lead Actress in Sybil,
the harrowing tale about a woman with thirteen personalities. A few
years later, Field cemented her status, winning an Oscar for Norma Rae (1979) and another for Places in the Heart (1984). Since then, she's gone back to TV and racked up another seven Emmy nominations, including two more wins.

Tommy Lee Jones
While you might not think of Jones as a TV guy, he has just as many
Emmys as Oscars. Jones actually got his first Emmy nearly a decade
before his first Oscar, for the 1983 TV movie The Executioner's Song. He even picked up a second Emmy nomination for Lonesome Dove before finally getting his first Oscar recognition for his role in JFK (1991).
Despite coming home empty-handed, Jones didn't wait long to join the
illustrious club: He won Best Actor in a Supporting Role for The Fugitive in 1994.

Read More