Gamer Review – Young Enough to Drool Over Cybertarts? Old Enough for Self-Loathing?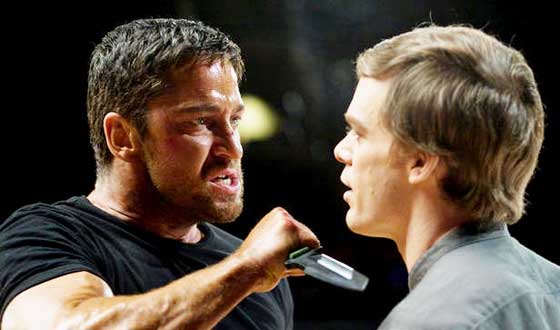 Gamer Review – Young Enough to Drool Over Cybertarts? Old Enough for Self-Loathing?" width="560″/>

A streak of genius runs through Crank auteurs Mark Nevaldine and Brian Taylor's dystopian vision of a world in which virtual reality games are played with real people: In Gamer, the titular characters pull the strings of flesh-and-blood avatars who do their bidding, no matter how dangerous or perverse. In the end the Taylor and Nevaldine opt for the obvious, but let's give credit where credit is due: These lads touch a whole lot of nerves before they retreat into generic clichés.
VR mogul Ken Castle (Michael C. Hall, of Showtime's Dexter) made his fortune on "Society," a sublimely creepy variation on The Sims in which players manipulate real people to their pervy hearts' content, but his masterstroke was "Slayers," which allows couch potatoes to pilot death-row inmates through a lethal first-person shooter game while getting off on the blood and brain spatter .Any "icon" who lives through 30 matches wins his or her freedom… not that anyone ever has.
Fan favorite Kable (Gerard Butler) has made it through 27 rounds and is allowing himself to hope he just might be able to rescue his lovely wife (Amber Valletta) from the degradation of Society and reclaim their daughter, who's been adopted by decent people; But can Kable and his puppeteer, callow, filthy rich teen Simon Silverton (Logan Lerman, of TV's Jack & Bobby) really ace those three final rounds? Um, no… not unless they cheat, because everybody knows the deck is stacked, the dice are loaded and there's no winning unless you rewrite the rules:
Yes, Gamers lays on the bloody action from the get-go; and no, it's neither subtle nor refined. But it seethes with an unexpected contempt for the VR culture that encourages cosseted, asocial geeks to live vicariously through elaborate role-playing games and allows them to pretend that Facebook friends are real friends. Taylor and Neveldine are young enough to have grown up grooving on cyber-tarts eager to bare their boobies for fun/profit but old enough to feel a tiny bit soiled by the exchange. In short, Gamer seethes with self-loathing.
As to baroque flourishes like the musical number set to Cole Porter's "I've Got You Under My Skin," well, if the past is a foreign country, then so is the future. A pretty stunning one, to be honest.
Read More