Eminem, Lil Wayne, Kanye West and Drake Record Single for Lebron James Doc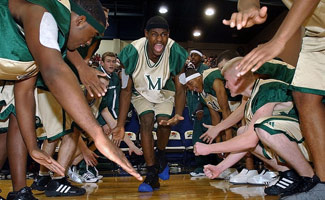 Since its world premiere last year at the Toronto International Film Festival, there's been very little buzz about the upcoming LeBron James basketball documentary More Than a Game. But that all changed when four of the hottest MC's in rap and hip-hop suddenly announced that they had recorded a song together for the film's soundtrack.
The song, which leaked on the Internet last week, is called "Forever" and it's a six-minute jam with verses by Eminem, Lil Wayne, Kanye West and newcomer Drake that has ignited rap and hip-hop fans and renewed interest in the doc.
Directed by Kristopher Belman, More Than a Game documents the "Fab Five" — a group of young basketball players in Akron, Ohio who happen to be led by future NBA superstar LeBron James.
The story focuses on their nine-year journey from an inner-city gym to
a national high school championship and then the NBA where James
becomes the breakout star of the group. It received a five-minute
standing ovation after its Toronto premiere and was runner-up for the
People's Choice Award at the fest — losing to eventual Oscar winner Slumdog Millionaire. Click here for AMC News' interview with LeBron James at TIFF 2008.
A few months after the festival, Lionsgate acquired worldwide
distribution rights to the documentary in an unusual partnership with
Interscope Records, music producer Harvey Mason, Jr., the NBA, and
Fortune 500 companies Nike, Coca-Cola and State Farm Insurance. As part
of the deal, the corporations and the NBA agreed to create marketing
tie-ins while Interscope Records and Mason would put together an
all-star soundtrack. Mason is well known in the music world for writing
and producing songs for Aretha Franklin, Elton John, Justin Timberlake
and Britney Spears. He also put together the soundtrack for 2006's Dreamgirls.
Earlier this month Interscope began promoting the More Than a Game
soundtrack by releasing the first single and video "Stronger" by Mary
J. Blige. Shortly after, the label released a second single — only
digitally — called "Drop It Low" by newcomer Ester Dean featuring pop
singer Chris Brown. The release of those two singles has now been
totally overshadowed by the all-star foursome in "Forever." MTV News
called the grouping an "O.D. of talent" and compared it to last year's
"Swagga Like Us" — a track by Atlanta rapper T.I. with Jay-Z, Kanye
West and Lil Wayne. All four of those rappers (plus a very pregnant
M.I.A.) performed it live earlier this year at the Grammy Awards.
"Forever" went through three incarnations before becoming the
hip-hop summit song of 2009. An original version featuring Drake, his
mentor Lil Wayne and rapper Nut Da Kidd was already circulating on mix
tapes and online. After that came a second version with just Drake and
Kanye West, and a third, expanded version uniting
Drake, West, Eminem and Lil Wayne together. Rich Paul, a partner with LeBron James in their strategic
marketing company LRMR, told MTV News that the track is "one of those
songs fans will really want to hear forever. It's that type of
feeling."
While the lyrics to the first single, Blige's "Stronger," directly
relate to the inspirational story in the documentary, the lyrics to
"Forever" are full of ballin' and boastin' tales completely unrelated
to the film: Kanye namechecks the Obamas; Lil Wayne raps about his
chauffeur; Eminem puffs that he's a modern day Hannibal Lecter; and
Drake keeps it low-fi, humbly labeling himself as the "greatest ever."
The final mix of the track was posted Saturday evening on Drake's
blog. Next month director Hype Williams, who's created classic music
videos for Jay-Z, Busta Rhymes and TLC, will direct the video for
"Forever" in New York City. The soundtrack to More Than a Game drops on September 29; the documentary opens in New York, Los Angeles and Cleveland on October 2.
Click here to watch the trailer for More Than a Game.
Read More