Don't Cry Out Loud – Movie Deaths So Sad You'll Run Out of Tissues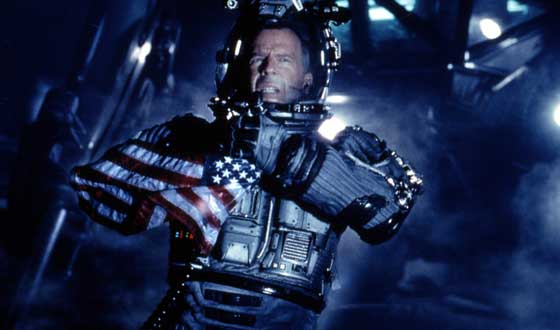 Ever get the feeling that screenwriters sometimes kill off a character just to screw with your emotions? Or write them right off the screen just to shock you? It's always jarring to watch someone you've spent an hour-and-a-half growing to know (and maybe even like) die, but the movie deaths that follow are the ones that hurt the most. They're the ones that scar and have people leaving the theater bawling, "Why?!"

Maggie (Hilary Swank) in Million Dollar Baby (2004)
In case Clint Eastwood's somber masterpiece hadn't bummed you out enough, what with Maggie's paralysis and her horrific suicide attempts, the last we see of surly trainer Frankie (Eastwood) and his boxing protege is the moment he helps her end her life. Frankie gives her a lethal injection, but not before revealing the meaning of the Irish nickname he gave her: "My Darling, My Blood." Good grief!

Katsumoto (Ken Watanabe) in The Last Samurai (2003)
Many characters sacrifice themselves for the greater good. Katsumoto, the Samurai, gets extra heartstring-tugging points for dying by seppuku, the Japanese tradition of honorable suicide. It's impossible not to be moved by his ideas about honor and duty. Wounded leading his army into a war he can't win, he decides he'd rather die by his own hand than suffer the shame of defeat. Devastating.

G-Baby (DeWayne Warren) in Hardball (2001)
OK, so this movie wasn't so great. But despite its cliched plot and the best efforts of Keanu Reeves, its lovable kids redeem Hardball. Nobody is more integral to this than G-Baby, a smack-talking kid with a heart of gold. When G-Baby is killed by a stray bullet, it's hard not to wish it had been Reeves instead. Or anyone else! This shocking turn adds a dash of realism to an otherwise feel-good storyline.

Danny Vineyard (Edward Furlong) in American History X (1998)
In retrospect, it was going too well for Danny and his brother Derek (Ed Norton). Derek, a former Neo-Nazi, hadn't paid the karmic price for committing murder. When Danny is shot and killed at movie's end, it shouldn't be surprising, but it is. The brothers have renounced their Neo-Nazi ties … just maybe there could be a happy ending? There isn't. The last we see of the Vinyard brothers is Derek sobbing over Danny's dead body.

John Coffey (Michael Clarke Duncan) in The Green Mile (1999)
When John Coffey goes to his death, he does so willingly and to avoid feeling more pain than he can handle. Coffey is in every way a heartbreakingly gentle giant, and has, among other supernatural powers, the ability to actually feel the pain of those around him. While Coffey is escaping greater burdens than he can carry, it doesn't make seeing him executed is any less terrible.

Harry Stamper (Bruce Willis) in Armageddon (1998)
This movie, which is predicated on cheap thrills, milks everything it can out of Harry's death. First, he takes Ben Affleck's place as the one who'll stay behind on the asteroid and tells Affleck he loves him. Then he's
saying goodbye to his daughter (Liv Tyler) by saying "We win Gracie!" as he detonates a bomb, killing himself but saving humanity. Manipulative, but effective.

William Wallace (Mel Gibson) in Braveheart (1995)
Wallace's death is drawn out as slowly as possible through the tough-to-watch penultimate scene of this epic. Wallace is tortured and tortured, then tortured some more, but refuses to give in. Finally, he unleashes his famous call of freedom, and he's executed, in brutal super slow motion. What hurts most might just be the shot of his compatriot Hamish (Brendan Gleeson)'s face as he quietly implores Wallace to beg for mercy.

Mufasa (James Earl Jones) in The Lion King (1994)
This Disney flick jumps right into tragedy. In no time at all Mufasa, the King of the Jungle, is dead. How are children supposed to handle his death when it's more than some adults can take? When the heroic Mustafa is killed by the machinations of his power-hungry brother Scar, the image of Little Simba wimpering over his father's body is enough to haunt anyone who sees it, animated or not.

Rufio (Dante Basco) in Hook (1991)
For starters, Rufio's death in Steven Spielberg's adaptation of Peter Pan is shocking in that it occurs in what is, for all intents and purposes, a children's movie. There's no way to see it coming when the Lost Boys' leader is slain by the dastardly Captain Hook. In the aftermath of their fearless leader's death, The Lost Boys chant "Rufio, Rufio, Rufio" and anyone not made of stone has to be moved.

Read More