Daily Scan for 09.22.09 – Kirby Heirs Sue Marvel, Disney Remakes Frankenweenie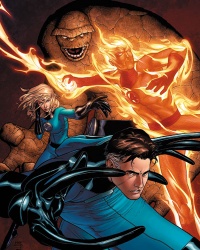 • Are you my friend? Then expect to get this BioShock Big Daddy action figure for Christmas, or whatever they celebrate down in Rapture… Capitalism Day?
• Now that the Schusters have gotten their piece of DC's Superman, Kirby's heirs are going after Marvel. Disney says they took the potential lawsuit into account when they bought the company.
• Bizarrely, Disney plans on remaking Tim Burton's first short, Frankenweenie, as an expanded animated production.
• And speaking of Tim Burton, watch him interview stop-motion animator Ray Harryhausen for over twenty eight minutes.
• Meanwhile, the increasingly clueless scifi luminary Ray Bradbury — who recently invalidated the worth of his classic Fahrenheit 451 by claiming it was anti-television, not anti-censorship — celebrated his 89th birthday.
• Last night's Emmy Awards, though kind to AMC, snubbed quite a few scifi stars including Andy Hallett of Angel.
• Life Magazine does a great Space Invaders photoset.
• District 9 concept designer Greg Broadmore shows the initial sketches of the Prawns' dilapidated flying saucer.
• Some wonderful Russians do some live-action RPGing in the rich, post-apocalytpic Fallout 3 world. Hope they brought their Pipboys.
Read More