Daily Scan for 09.07.09 – Star Wars-Inspired Religious Art; Did Dune Ruin Science Fiction?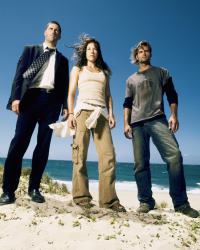 • Damon, Carlton and a Polar Bear generate surprisingly wonderful vintage era poster art based upon Lost's seminal moments.
• You may have missed this elsewhere on AMC, but Patton Oswalt has a convincing argument that Singing in the Rain is a science fiction movie.
• Did Frank Herbert's Dune ruin science fiction?
• The newest adaptation of Cormac McCarthy's post-apocalyptic father-and-son novel, The Road, is getting rather poor reviews, but if you want to make up your mind for yourself, there are over ten minutes of new clips now available online.
• Tom Baker is returning as the fourth Doctor Who in a new five-part BBC audio drama.
• io9 hosts a wonderful gallery of religious art inspired or modified by the Star Wars universe.
• A wonderful essay by James Bradley argues that John Wyndham's Day of the Triffids is a very, very British type of apocalypse novel.
Read More