Classic Ten – Misquotes From the Movies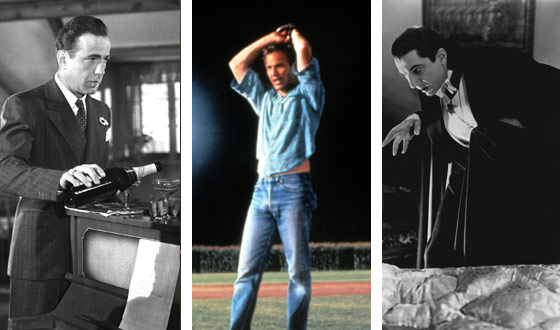 Compared to testifying in court, the failure to correctly cite your favorite movie quote falls on the harmless end of the spectrum. Then again, there's nothing more fun then busting out some undermining trivia when you're in a room full of film nerds! Filmsite.org's Tim Dirks has taken the legwork out of the process by compiling a definitive list of some of the most egregious movie misquotes that have made it into the popular vernacular. Below is a list of the worst offenders, ranked in order from "Kind of understandable…" to "How could you!?"
10. "Luke, I am your father" – Star Wars V: The Empire Strikes Back (1980)
OK, so this one might be picking hairs a little, but since it's one of the most widely-quoted lines in movie history, it bears pointing out that what Darth Vader says to Luke Skywalker in that final scene is actually "No, I am your father." And according to movie lore, what Jones actually said was "Obi-Wan killed your father," but the line was later overdubbed.
9. "Do you feel lucky, punk?" – Dirty Harry (1971)
It makes sense that this one has been paraphrased ad nauseum over the years, since the line Clint Eastwood's hard-as-nails cop actually uttered was, "…But being as this is a .44 Magnum, the most powerful handgun in the world, and would blow your head clean off, you've got to ask yourself one question: 'Do I feel lucky?' Well, do ya punk?" It's just not quite as catchy.
8. "Is that a pistol in your pocket, or are you just happy to see me?" – She Done Him Wrong (1934)
Incredibly enough, Mae West actually uttered this famous quip off the cuff — to a real police officer, in real life! She did make cheeky reference to it later in her career though, reiterating the phrase to her co-star George Hamilton in her final movie Sextette, over 40 years later.
7. "You're going out there a nobody, but you're coming back a star!" – 42nd Street (1933)
This misquote of the classic line delivered by director Julian Marsh (Warner Baxter) to young ingenue Peggy Sawyer (Ruby Keeler) is an interesting case, because the popularized version actually blurs the meaning of the original a bit. Baxter actually says, "you're going out a youngster, but you've got to come back a star," and the emphasis makes all the difference: This isn't a random pump-you-up speech — the director is actually desperate for Peggy to succeed, thanks to impending bankruptcy.
6. "Fasten your seatbelts, it's going to be a bumpy ride" – All About Eve (1950)
In this case, the bastardized version of the quote actually makes a whole heckuva lot more sense. As aging stage actress Margo Channing, Bette Davis actually said, "Fasten your seatbelts, it's going to be a bumpy night." Huh?
5. "If you build it, they will come" – Field of Dreams (1989)
Another subtle distinction that changes the meaning substantially, the way most people remember the phrase uttered by the disembodied voice in Ray (Kevin Costner)'s cornfield is actually incorrect. If you'll recall, the ghostly voice actually said, "If you build it, he will come," meaning Ray's father. Extra points to the ghostly voice for being correct!
4."Mirror, mirror on the wall, who is the fairest of them all?" – Snow White and the Seven Dwarves (1937)
Couldn't you have sworn that those were the original words? If so, you're not alone: The misquote was heard in Elvira, Mistress of the Dark (1988), 101 Dalmatians (1996), 54 (1998), and other movies. Alas, the Wicked Witch actually says, "Magic mirror on the wall, who is the fairest one of all?" Luckily, the meaning stays the same, so the world dodged a bullet on this one.
3. "Me Tarzan, you Jane" – Tarzan, the Ape Man (1932)
No, though the actual conversation between Tarzan (Johnny Weissmuller) and the comely Jane (Maureen O'Sullivan) actually involved a lot of emphatic pointing and excited finger-stabbing, the above was actually never said out loud. The real exchange was more like, "Jane. Jane. And you? You?" "Tarzan. Tarzan. Tarzan." You get the drift.
2. "I want to suck your blood!" – Dracula (1931)
Oddly enough, Hungarian-born actor Bela Lugosi never actually said the line so often attributed to the blood-sucking fiend he portrayed in the horror classic. The phrase was actually used in a humorous context by Dr. Tom Mason (Ned Bellamy) practicing his Bela Lugosi impersonation in director Tim Burton's Ed Wood (1994).
1. "Play it again, Sam" – Casablanca (1942)
Neither Ingrid Bergman nor Humphrey Bogart uttered the famous phrase to Sam (Dooley Wilson), the nightclub pianist and reluctant performer of the sentimental song "As Time Goes By." The closest Bogart came to the phrase was this: "You played it for her, you can play it for me…If she can stand it, I can. Play it!" Doesn't have quite the same ring to it, now does it?

Read More