Classic Ten – Major Hollywood Comebacks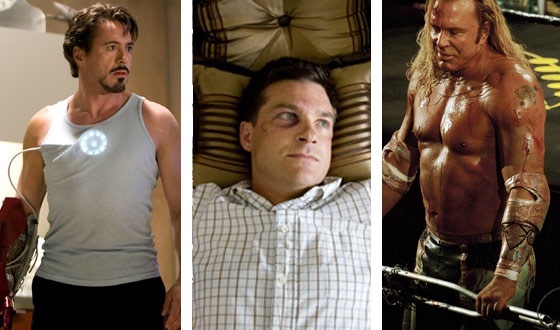 It's hard enough to make it in Hollywood, let alone to crawl back from the hinterlands of obscurity. All it takes is one bad movie to derail a solid career for good. But there is always the hope of forgiveness, and a lucky handful of actors have found that just as quickly as your fortunes can change, they can reverse once again for the better. And there's nothing audiences love more than the triumphant comeback of a beloved star. But who deserves the medal for greatest comeback tale of all time? Read on…

10. Jason Bateman
After a run of television success in the 80s, including Little House on the Prairie and Silver Spoons, Jason Bateman flamed out in a Teen Wolf Too blaze of glory. With the brilliant Arrested Development, his career regained its momentum and he became a regular with supporting roles alongside Ben Stiller and Vince Vaughn. After his performance in Juno, he shed his sidekick skin and has confidently assumed the leading man position.

9. Diane Lane
Lane was in both Francis Ford Coppola's The Outsiders and Rumble Fish, but unfortunately chose her next moves poorly, before opting to up and leave Hollywood entirely for a few years. She made a blip on the radar with 1999's A Walk on the Moon, but it was Unfaithful, in 2002, that finally got her career back on track. She earns ninth place right before the actress who was originally offered her role in The Outsiders…

8. Sarah Jessica Parker
Before she was the quirkiest columnist in Manhattan, Parker had an early lock on "quirky best friend." (See: Footloose and Square Pegs.) But her career withered until Steve Martin cast her in L.A. Story… which in turn led to her role as Carrie in Sex and the City. Hundreds of cosmos, cupcakes and condoms later, SJP's movie career was born anew. With a cult following like hers, she easily sex-talks her way into eighth place.

7. Robert Downey Jr.
What began brilliantly with the Oscar-winning Chaplin unraveled slowly over the course of the next decade. Soon Robert Downey Jr.'s career was better known as a drug-fueled cycle of jail, probation, and probation violation. Several rehabs later, Downey was back on top by 2008, when he starred in the two biggest movies of the summer, Tropic Thunder and Iron Man. He only earns seventh place on this list only because he never truly disappeared for very long.

6. Jennifer Connelly
What happens when you put George Lucas in a room with Jim Henson and David Bowie? Labyrinth. Jennifer Connelly anchored the movie with her relative normalcy, but despite her stunning looks, success was not forthcoming. But then, in 2000, a role in Requiem for a Dream set up her glorious comeback opposite Russell Crowe in A Beautiful Mind. She won an Oscar for her turn, which assured that she would never have to play opposite a Muppet again.
5. John Travolta
Saturday Night Fever and Grease are some of Travolta's most beloved roles, but in the '80s he had trouble shaking his dancer-stud persona. Things got so bad that he willingly participated in two of Hollywood's worst ideas, Look Who's Talking and Look Who's Talking Too. In 1994, Quentin Tarantino cast Travolta in the role of Pulp Fiction's Vincent Vega. Travolta got an Oscar nomination for Best Actor, in the fifth best career comeback of all time.

4. Hilary Swank
After The Next Karate Kid and Aaron Spelling's 90210, Swank showed promise for a steady career on screen. Still, she faded from the spotlight. So Swank got smart and played against type. Literally. 1999's Boys Don't Cry was her big comeback from teen-actor purgatory. After that, Million Dollar Baby got her back on the Karate Kid training schedule, and she proved that her return was no fluke, landing her at fourth on our list.

3. Mickey Rourke
Mickey's 2008 performance as Randy "The Ram" Robinson is now the stuff of comeback legend. Having melted off his original face sometime in the late '90s, Rourke had long since annihilated any sexy leading man chances he had established with 9½ Weeks. Until Darren Arnofsky wrote The Wrestler with Rourke in mind: The custom-made role fit him like a glove. For his humble gratitude at getting a second chance to act, Rourke earns third place.
2. Drew Barrymore
Barrymore was 5 when Spielberg cast her as Gertie in ET. The peak of her career came at 6, with her award-winning turn in Irreconcilable Differences. In short turn she was smoking and drinking at Studio 54 around the age of 10. And though she appeared in a number of fun rom-coms in the late nineties, it was 2000's Charlie's Angels which established her as an international box office dra. For beating a teen drug addiction and only getting better with time, Barrymore swipes second place.

1. Marlon Brando
The world didn't know sexy until 1951, when Marlon Brando played Stanley Kowalski in A Streetcar Named Desire. Alas, his career (and good looks) tarnished to a dull sheen in the '60s. Francis Ford Coppola took a chance on Brando for the role of Vito Corleone in The Godfather, and movie history was made, leading to what can easily be considered the greatest movie career comeback of all time.

Read More