Bravo, Rio Bravo – Top Ten Westerns Starring the Duke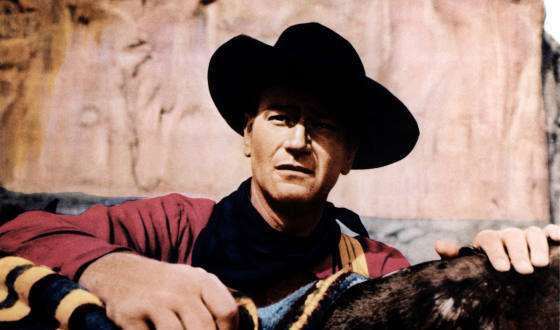 From his apprenticeship in B-movies to his transformation into an American icon, John Wayne's success at the movies seems pinned to the genre he helped create — the Western. And while it's easy to think of Wayne as playing the same sauntering cowboy in every movie, there's actually an enormous amount of diversity in his
work. "I don't act, I react," was a standard Duke quip. But there's more there than meets the eye. Look closely at Wayne's best movies and you'll see layers as deep as the canyons of Monument Valley.

10. She Wore a Yellow Ribbon
Ten minutes in, there's all the familiar signposts of a John Ford flick: a romantic subplot, a foreshadowed battle, and some ethnic comic relief. (For an Irish-American, he sure made them the butt of a lot of jokes.) But what makes this movie truly special is Wayne's elegiac performance as a retiring cavalry officer, closing the book on his days on the lonesome frontier. Striking a bittersweet note, Wayne comes off as more authentic than the self-assured cowpokes he usually plays.
9. True Grit

The Duke's in an eye patch, calling everyone "pilgrim." For this, True Grit is much beloved among Wayne fans. And there's a lot to like in the actor's broad, Oscar-snatching performance as Rooster Cogburn, an archetype of irascibility — a very good thing, since Kim Darby's nails-on-chalkboards performance as the precocious Mattie Ross is less appealing. Here's hoping Mattie's done more justice in the Coen brothers' upcoming adaptation. (That's right!)
8. McLintock!
In the emphatic tradition of Objective, Burma!, I Want to Live!, and Oliver!
comes this delightful Western comedy. The
battle-of-the-sexes chemistry between Maureen O'Hara and the Duke is so much
fun to watch that it's no wonder these close friends were frequent screen
partners. Sure, the whole enterprise is a bit hokey and overstuffed
with plotlines, but that's all part of the fun.
7. Fort Apache
Henry Fonda may steal the show as East Coast-bred nincompoop Owen
Thursday, but Wayne serves faithfully as Colonel Kirby York, Fonda's
wiser second in command. Filmed in strikingly beautiful black and white, Fort Apache
is a suspenseful yet gently paced film whose clash of opposites forms
the centerpiece of a story that examines the intersection of history
and myth.
6. The Shootist
Movies often parallel an actor's biography, and this movie is one of
the most poignant examples. At the time of its making, Wayne was in
poor health, recovering from his first bout with cancer, the disease that
would kill him just three years later. So The Shootist's
portrait of a dying gunfighter has particular resonance — and an
appearance by old compadre James Stewart rounds out the movie's
funereal feel. Nonetheless, it's a fitting and eloquent end to Wayne's
long life in movies.
5. The Man Who Shot Liberty Valance
Though
the Duke plays second banana to Jimmy Stewart, in some ways his role is
more memorable. This flick also contains some of Wayne's greatest
scenes: his perspective on the infamous titular shooting is an economical one-shot that's quintessential Ford. And the actor's
confrontation with Lee Marvin's Liberty Valance over a plate of spilled
food is one of the memorable showdowns of his career.
4. Red River
This noirish Western surveys some dark psychological terrain in its story of
the conflict between a steely cattle-driver (Wayne) and his adoptive
son (Montgomery Clift). It's also an interesting clash of acting
styles, with Clift representing the new wave of Method acting and Wayne
standing firm with the more expressive style of the old guard. His dark
portrayal of a controlling man also allowed the Duke the chance to flex
the acting muscles that often went unused in his pictures with John
Ford (quite a control freak himself).
3. Stagecoach

This is the movie that cemented the official Wayne-as-noble-outlaw
persona as he played straight-talking, straight-shooting Ringo. Its
sweeping story of a stagecoach passing through dangerous frontier put
the Western back on the map in A-picture territory, with John
Ford as the genre's benevolent dictator. It's also a fast-paced, thoroughly
rousing cowboy opera that shows you why people liked Westerns so much
in the first place.
2. Rio Bravo

Wayne often fares better in the movies of Howard Hawks than those of
John Ford. Ford was a taskmaster, and in Hawks's pictures with Wayne you
can feel the actor breathe a bit more. With a great story that plays
like a retort to High Noon,
Wayne entrusts justice to a motley crew of helpers — a green
gunfighter, a drunk deputy, and a crotchety old-timer — to clear the
town of bandits. Of course, there are exceptions to the Howard Hawks
rule, such as…
1. The Searchers
Wayne
exercises his dark side in John Ford's masterpiece. As was the case with Jimmy Stewart, beneath Wayne's veneer
of American idealism was a dark undercurrent that sometimes rose to the
surface and exposed a very different take on the Western Everyman.
Playing Ethan Edwards, on a quest to rescue his niece from Indians, Wayne offers his most complicated portrayal of the central
subject of so many Westerns: decent men torn apart by violence.

Click here for a full schedule of Stagecoach showings on AMC.
Read More