Games, Polls & Quizzes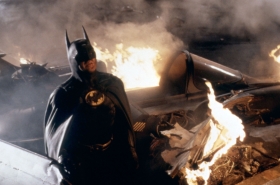 The Caped Crusader has been played by A-Listers Michael Keaton, Christian Bale, George Clooney and Val Kilmer. Batman is a franchise audiences love for its secret lairs and vigilante tactics — and freakish bad guys. What does the Joker (Heath Ledger) torch in The Dark Knight? Who said no to $15 million for Batman Forever?
Check out Batman Begins, playing tonight on AMC at 8PM | 7C. Click here for the full schedule.

Read More