AMC News Gets Ready for Toronto International Film Festival 2009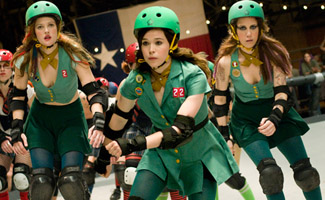 A year ago I brought you my first reports for AMC News from the Toronto International Film Festival (TIFF) where we kicked off the AMC News Twitter feed and talked with everyone from Bill Maher and Larry Charles to Brad Pitt and Tilda Swinton. Tomorrow TIFF 2009 kicks off!
We'll have lots to bring you this year, too. AMC News producer Mark Marraccini recently previewed TIFF09, pointing out the all-star lineup is not just limited to actors:
"The list of directors with movies at TIFF includes: Terry Gilliam, Michael Moore, Todd Solondz, Steven Soderbergh, Jason Reitman, Pedro Almodóvar, the Coen brothers, and George Romero. Not to mention first-time helmers like ex-fashion designer Tom Ford who will be debuting his Colin Firth-starrer A Single Man, and actress Drew Barrymore with her roller-derby adventure Whip It (starring Ellen Page). Both movies are expected to produce some serious buzz."
I'll be tweeting and uploading pictures live from The Informant! red carpet premiere on Friday night, and during all the interviews we're conducting at the festival. We have our own studio space, and some of the TIFF09 main attractions will be coming to us.
Last year I saw some awesome films, interviewed some super-interesting folks, and ate some delicious bagels at Bagel World. I expect more of the same at TIFF09. So stay tuned, follow me on Twitter, and send me your thoughts about what you'd like to see from AMC News at TIFF09.
Read More