Western Holiday – The Top Ten Greatest Gregory Peck Westerns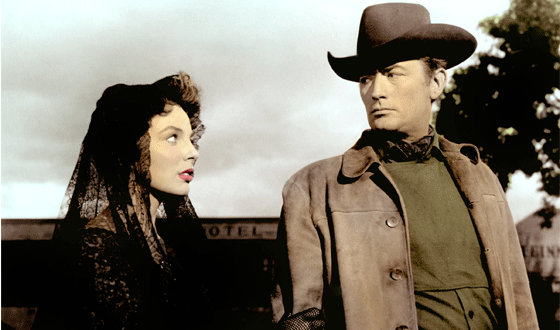 Leading man Gregory Peck is probably best known for his role as crusading lawyer Atticus Finch in 1962's To Kill a Mockingbird. But like many actors coming of age in the 1940s, he also had a considerable career in Westerns. Interestingly enough, his frontier characters display not only the moral fortitude of his Mockingbird character, but are frequently those the jurist would lock up: Thieves, gamblers and killers. Read on for a round-up of Peck's greatest gunslinging hits.

10. Billy Two Hats (1974)
Those who anxiously awaited the pairing of Robert De Niro and Al Pacino in Heat have nothing on cinema's greatest meeting of the minds — Gregory Peck and I Love Lucy's Desi Arnaz. In this heist Western, the two team up for a robbery that goes awry and viewers can probably guess the rest of the plot themselves. Most interesting as a curiosity, Billy Two Hats boasts another odd claim to fame: Filmed in Israel, it has the honor of being a "Matzo Western."
9. Shoot Out (1971)
If there's one sub-genre most of us would like to die a slow death, it's the "guy-saddled-with-a-precocious-kid" movie (see Cop and a Half). Here, Peck plays an aging outlaw out to settle an old score. But his quest for revenge is hobbled when he's saddled with a cute 6-year-old. For actually making this cliched trope work somewhat, this one gets a nine.
8. Mackenna's Gold (1969)

Peck knows where a fortune in Apache gold is buried, and thus his
life is threatened by unscrupulous opponents who want to lay their claim
to the booty. This morality tale about the pitfalls of greed plays
like a more conventional update of Treasure of the Sierra Madre. Featuring Burgess Meredith, Telly Savalas, and Omar Sharif, Mackenna's Gold is a fun pic but not a definitive must-see, unlike…
7. Only the Valiant (1951)
Peck plays an Army captain who tries to get a battalion of
reluctant soldiers to guard a military base in the heart of Apache
country. They're less than enthused with their orders, and Peck may have a mutiny
on his hand. Though the plot's fairly routine, Peck's performance as
the strong-but-silent Richard Lance strikes all the right notes,
pushing Only the Valiant past the stragglers on this list.
6. How the West Was Won (1962)
Three families make their way to the West in this sprawling widescreen
epic, which features three directors (Henry Hathaway, John Ford, George
Marshall) and an all-star cast including John Wayne, Henry Fonda, James
Stewart, and of course, Gregory Peck. Here Peck actually offers something new as he
shows off his comic chops in the role of a gambler who reforms himself
for the love of a woman. While Peck's segment is hardly the main event,
it's certainly one of the highlights of this ambitious flick.
5. The Big Country (1958)
If you've seen Rudolph Maté's The Violent Men, you've also unwittingly seen this movie. Though The Big Country
follows the familiar story of a pacifist who's pushed into violence (the
Bruce Banner school of the Western), it's made of just as solid stuff
as its forebear. And how many movies can craft a rousing tale of revenge
and romance over a dispute about water rights? The idiosyncratic plot and the great final shoot-out with Charlton Heston puts this range Western into the top five.
4. Yellow Sky (1948)
Gold fever forms the basis for this taut, suspenseful Western
from director William Wellman, in which Peck plays a bank-robber who stumbles into a
ghost town with his gang. There, an old codger and his granddaughter
protect can't hide the scent of those yellow flakes from Peck's
treacherous partner (Richard Widmark). Deceit, rivalries, and showdowns
fill up every second of the movie's 99-minute runtime, while Peck once
more proves adept at playing the not-so-bad guy in one of his best performances yet.
3. Duel in the Sun (1946)
Dubbed "Lust in the Dust" by apoplectic religious groups, this lurid
Technicolor Western comes saturated in sin — not to mention director
King Vidor's evocative visuals. Like The Outlaw
before it, this pic pushes sex to its limits with its scantily clad
heroine (Jennifer Jones). But Peck holds his own in the sweltering
atmosphere as a swaggering, violent, and strangely magnetic bad
boy. It's a melodramatic, messy movie that's also one of the most unique
Westerns to date.
2. The Bravados (1958)
The Bravados is one of the best psychological Westerns to
emerge from the 1950s, challenging the genre's convictions with moral
uncertainty. Here, a mustachioed Peck goes after the fugitives that
killed his wife, mercilessly tracking them down a killing them. But
what happens when he discovers they weren't the bandits who killed his
wife after all? Peck is at his most obsessive in this compelling
examination of violence, which makes a nice companion piece an earlier movie, also directed by Henry King…
1. The Gunfighter (1950)
Peck plays an old gunslinger who wants to hang up his pistols, but must
deal with a bloody past that draws in scores of young gunfighters who
want to take his place by killing him. For its portrayal of the
continuing toll of violence, The Gunfighter was ahead of its time, providing the template for The Shootist and Unforgiven.
And as Jimmy Ringo, Peck is perfect — an old dog who's not a hero, but
is so resigned to his lot that you care about him just the same.
Clear here for a complete schedule of The Bravados on AMC.

Read More