Web Stalker – Twilight Fans Howl at the New Moon Trailer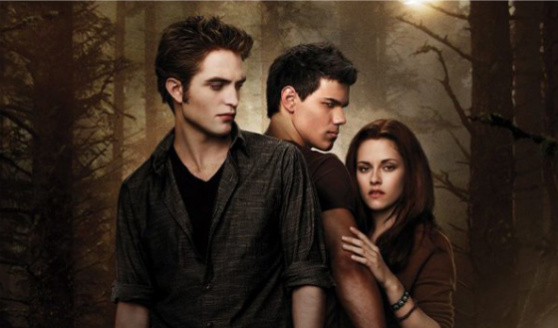 Web Stalker rarely devotes two precious columns to one movie, but this isn't just any movie we're talking about. It's New Moon, and the new trailer has left a glittering trail of hyper-hormonal teen fantasies all over the web. Wait, who are we kidding? The fantasies are hardly all of the teen variety, as the existance of obviously adult-moderated groups like the 678-member-strong Edward Cullen Has Ruined Me For Mere Mortals make clear.
At any rate, here's the juice: Summit Entertainment first put out a trailer for New Moon, the second movie in the Twilight saga, back in April and, as Web Stalker chronicled, the Internet exploded in a frenzy of prepubescent glee. Since then, aside from the standard "OMG ARE ROB AND KRISTEN IN LOVE!?" tabloid covers that have made ordinary newsstands look like teen bulletin boards, fans have been left panting for New news. But all that just changed.
First, Summit announced that they were premiering a new trailer in theaters this past Friday, attached to the their shaky Vanessa Hudgens vehicle Bandslam. Unluckily for them, Bandslam's French distributor opened it early (who knew hip Parisian adolescents were High School Musical junkies?), and so it was only a matter of time before an amusingly dubbed version of the trailer popped up all over the web. "Though fans were no doubt satisfied with sneak peeks of both [Dakota] Fanning as Jane and the shirtless wolf pack," MTV Online pointed out that "much of the trailer had been previously released." They also pointed out that, "little of fan-favorite Pattinson was seen in the clips, whose appearances in the sequel rely largely on Bella's "hallucinations" after he abandons her."
Edward or no, fervent fans kept re-posting bootlegged versions of the trailer to the Web just about as fast as Summit could yank them down — and they only redoubled their efforts once the English version hit theaters this weekend. (For the curious, a quick trip over to this search string on YouTube should do the trick).
The near total absence of marbly sparkle vampire Edward Cullen (U.K. heartthrob Robert Pattinson) in New Moon has been a hot topic since the first trailer premiered, but if responses to this new preview are any indication, the frequently shirtless, incredibly buffed-up Taylor Lautner (who plays Bella's shapeshifting suitor, Jacob) will be more than enough to bring hot-and-bothered Twilight fans out in droves.
The Hollywood Crush blog "stayed up past [its] bedtime" to get a peek at the new New Moon trailer, and gushes, "Hello six-pack! If 'Twilight' was Robert's dazzling moment in the sun, it's evident from this new trailer that "New Moon" is Taylor's. As an avid Team Edwarder, I was worried the sequel would be too Jacob-centric, but after witnessing Taylor's fine acting chops (and hearing director Chris Weitz's accolades for the star during Comic-Con), I'm jazzed to see the 17-year-old take center stage."
AceShowbiz agrees that the teaser was "clearly made for the Team Jacob's satisfaction." EOnline's UberBlog has no problems with Jacob–centricity, citing the "sexy shirtless moments" and confessing that, "He may end the clip with a Hulk moment, but we know we'd still like Taylor when he's angry." This, from a grown-up! And one who previously dedicated a blog post to the topic "The New Moon Howler: Worst Werewolf Ever?"
At any rate, the true test of this movie's might will be whether the series' obsessive fans will line up to see the movie despite the grieovous under-representation of Pattinson. Judging by the reactions posted to all of the above posts — which basically range from "Ahhhhhh!!!!!!!" to "CAN'T WAIT" to "Why can't they release this movie nowwwwwww" — there will be no shortage of freaking and fainting when November 20 finally arrives. PopSugar went so far as to poll its readers on the Jacob-heavy trailer, with an overwhelming 71 percent opting for "Love it" over "Leave it."
Have you somehow made it this far despite having no clue about the phenomenon that's got the internet in such a frenzy? For a hilarious overview, head over to Cracked.com's Twilight page, an overview of the debased lessons a girl can glean from the stories. And if you'd like to further scare yourself straight on the topic of teenage obsession, check out New Moon's imdb messageboard. You'll want to keep every young girl you know under lock and key from this moment forward.
Read More