Web Stalker – De Niro and Breaking Bad's Trejo Fuel Frenzy for Machete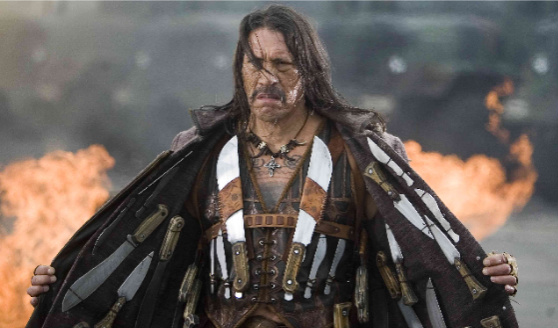 Are Robert Rodriguez's awash-in-blood gorefests actually horror movies? Debate at your leisure, but the web's collective loins are on fire with lust for Machete, and the red-hot casting announcement that just streaked across Internet is fueling the flames. And to think that once upon a time, Machete was to be be nothing more than an extra on the DVD of Planet Terror (2007). How things change!
To recap: Machete was born of Grindhouse, Rodriguez and Quentin Tarantino's massively hyped homage to trash movie double-bills. Their loving recreation included trailers for non-existant movies, including Rodriguez's over-the-top, gore spattered revenge movie Machete. In March 2007, Cinematical breathlessly reported that Machete was being spun off into a feature. "It'd probably get a bigger draw than a gory, 3-hour horror film — there's all those action fans and ladies anxious to see [Danny] Trejo having manly moments with naked women and waterfalls. Or, at least, the former!" Fans far and wide concurred. And in January 2008, the "official" poster turned up online, prompting furious fan speculation: Was Machete really getting made, or was the poster just another meta-prank? And then… the lonely sound of crickets chirping in the silence.
Well, apparently Rodriguez was saving it all up for one big massive outpouring of crazy, which is the only way to describe the news Rodriguez just unleashed on the unsuspecting masses.
Fearnet.com said it most colorfully, if not the most poetically, in a post titled, " 'Machete' Casting Announcement Soils Our Pants!" The blogger went on to recount with glee: "Looks like the oft promised feature is REALLY on the way and dig into this juicy casting announcement: Danny Trejo (as Machete) along with Robert De Niro, Jessica Alba, Michelle Rodriguez, Steven Seagal, Lindsay Lohan, Cheech Marin, Don Johnson and Jeff Fahey! Wow, I need to pick my jaw up off the floor and clean my shorts, can't wait for this one!"
Most bloggers kept their shorts status to themselves, but that's not to say they weren't equally fist-pumpingly in favor of the news. Screencrave professes to "love the lineup!" HorrorYearbook says "the new star studded cast is just too great to ignore", while Slashfilm gives the cast a little more thought, musing that it's "a crazy lineup, but not really surprising. De Niro worked with Tarantino, pal of Rodriguez, after all, so he's not as left-field as you'd first think. But getting Seagal to do a movie he's not toplining always seems like an uphill battle, so that is a bit of a surprise. It's also fairly cool; if you're going to put Seagal in anything at this point, a b-movie like Machete is dead-on perfect. And I'll admit that I'm curious about what Rodriguez and Maniquis can get out of Don Johnson…"
Aren't we all? Also worth noting is the presence of Lindsay Lohan, who had tweeted her involvement in the project earlier in the week, prompting the L.A. Times' Dish Rag to ask, "Will Lindsay Lohan star in Robert Rodriguez's 'Machete'? She thinks so…" before going on to snark, "We doubt she'd turn anything down after nixing the role that went to Heather Graham in the surprise hit "The Hangover." Well, turns out Lindsay's having the last laugh on this one, as she'll now be rubbing elbows with the likes of De Niro and Alba — not too shabby.
Will this impressive ensemble cast be just the thing to bring Rodriguez's vision to the mainstream, or will the movie end up becoming the bloody camp equivalent of Stardust? Only time will tell.
But you can tell us what you think. Are you psyched for Machete, or just not interested in homages to the bad movies of yesteryear?
Read More