True Romance – Hollywood's Real (and Really Hot) Star Couples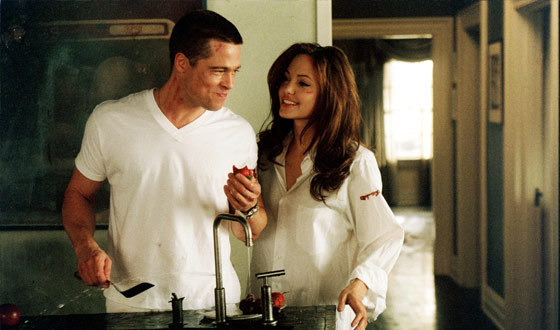 Hollywood has long been hailed as the dream factory, and what could be dreamier than two perfect star specimens taking their romance into real life? Against the odds, some couples even stick it out longer than the proverbial Hollywood minute. Witness the decades-long devotion of the recently deceased Farrah Fawcett and Ryan O'Neal and the late Paul Newman and Joanne Woodward, who stuck together 'til death did them part. This list salutes other longtime lovers who share the spotlight onscreen and off at this very moment, keeping our romantic fantasies alive.
10. Zac Efron and Vanessa Hudgens
Everything's just so intense in the Hollywood spotlight — and in high school. So the fact that Zac Efron and Vanessa Hudgens have managed to make their offscreen relationship last is enough to score them tenth place. It probably doesn't hurt that the co-stars have been making sweet music together onscreen since 2006, which is like decades in high school years. Hudgens gets extra credit for hanging on to her pretty boyfriend in the face of his screaming tween fans.
9. Kyra Sedgwick and Kevin Bacon
With virtually everyone in the world a mere six degrees from Kevin Bacon, the laws of transitivity dictate they're also six degrees from his wife of 20+ years, Kyra Sedgwick. When this winsome twosome first met way back when, Sedgwick was just starting out and Bacon had already starred in '80s teen flicks like Footloose. It takes fancy footwork to keep a Hollywood romance fresh for as long as they have, so Kyra and Kevin glide into ninth.

8. Matthew Broderick and Sarah Jessica Parker
This pocket-sized pair brings new meaning to the word relationship. Consummate pros on screen and stage, boyish Broderick and stylish Sarah Jessica seem to bring bring the same dedication to their marriage. While occasional rumors of infidelity have dogged the couple, the longtime lovers (in year twelve of married life) stay focused on their family, son James Wilkie and new twins Marion Loretta Elwell and Tabitha Hodge Broderick.
7. Reese Witherspoon and Jake Gyllenhaal
If this list had been compiled a few years ago, Oscar-winner Reese Witherspoon would have still made the cut, for her longish marriage to Ryan Phillippe. But when he threw her over for a younger model, Witherspoon set her determined chin and landed the even-hotter Jake Gyllenhaal. These two may not go out in public together much, but they land in seventh place for showing their fellow stars how to juggle careers, romance, and kids with ease.
6. Maggie Gyllenhaal and Peter Sarsgaard
They only recently made it legal, but these longtime lovers would nab sixth place among the top Hollywood romances even if Sarsgaard had never put a ring on it. The indie It couple may specialize in playing edgy, kinky characters onscreen, but off it they are the picture of sweet domestic bliss. Probably the closest the vowel-blessed pair has brushed with scandal in real life was when paparazzi snapped pics of Gyllenhaal nursing their daughter Ramona outside a New York City café.
5. Ben Affleck and Jennifer Garner
Who would have guessed that two meh comic book movies would have spawned such a lasting romance? When Ben Affleck starred as a blind crime-fighter in Daredevil, he was embroiled in a very public relationship with Jennifer Lopez. His co-star, Jennifer Garner, was a big television star but had divorced Scott Foley and dallied with Alias's Michael Vartan. Turns out, second Jen's the charm.
4. Will Smith and Jada Pinkett
He's a little bit hip hop, she's a little bit hard rock; he's a towering 6′ 2″ and she's just 5 feet tall, but together Will Smith and Jada Pinkett Smith make it work with an ease other Hollywood couples would do well to emulate. Their chill affect and their decision to combine their genes to create a next-generation Smith superstar, son Jaden, finds them in fourth place.
3. Demi Moore and Ashton Kutcher
When Demi and Ashton first got together, no one thought it would last. But this December-May pair have defied their critics and stayed together for what seems like eons already. Kind of surprising: After all, Ashton was barely alive when Demi first found fame with movies like St. Elmo's Fire, and her three children with Bruce Willis aren't that much younger than their bro-tastic stepdad. Dueling Twitter accounts must keep the spark alive for this third-place odd couple.
2. Javier Bardem and Penelope Cruz
Javier Bardem and Penelope Cruz are superstars in Spain, so it makes sense that Woody Allen chose them to play tempestuous former lovers when he shot Vicky Christina Barcelona in their home country. The Catalan chemistry the pair brought to the movie even upstaged the other pair, Scarlett Johanssen… and Rebecca Hall. Bardem and Cruz make so much sexy sense on and off screen they slip into second place.
1. Brad Pitt and Angelina Jolie
Their torrid romance so captured the imagination of the worldwide movie-going public that a new word had to be coined: Brangelina. Since their scandalous coming together on the set of Mr. and Mrs. Smith, Pitt and Jolie have pulled off an unprecedented image change. Brad builds houses in New Orleans, and Angie travels the world for the U.N., while still seeming totally hot for each other. Even their ever-growing brood of biological and adopted moppets are hot. First place!

Read More