Top Ten Movie Chefs – Which One Would You Want in Your Kitchen?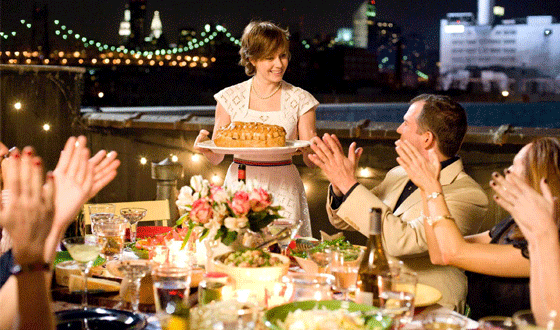 Julie and Julia is hardly the first big-budget movie to peek behind those alluring swinging doors to get a glimpse of culinary masters hard at work in the kitchen. Of course, not all movie chefs are created alike: Some chefs' enviable skills are undermined by their bad attitudes. Others simply don't deliver on the plate. Read on for a scathing review of the top ten movie chefs, and see where your favorites fall on the list.

10. Sara Michelle Gellar as Amanda Shelton in Simply Irresistible (1999)
As the bumbling would-be restaurateur at the heart of this daffy tale, the former Buffy doesn't have much to commend herself. But with the help of a magic crab that wanders into her kitchen (not kidding), she finds herself transformed into a chef of unimaginable talents. The best part? The treats that come out of her kitchen have aphrodisiac qualities and enable those who eat them to levitate with lust, squeaking this rookie into tenth place.

9. Adrian Grenier as Nate in The Devil Wears Prada (2007)
As the rising chef boyfriend of one Andy Sachs (Anne Hathaway), Grenier's just getting his start, but as the drool-inducing scenes in which he creates covetably crisped grilled cheeses out of $8-a-slice Jarlsberg for Andy goes to show, he has serious potential. (Online foodies have dedicated many a blog inch in an effort to recreate this creation; it may have even have led to a resurgence in the Swiss fromage.) For his dedication and raw talent, he comes in ninth.

8. Catherine Zeta-Jones as Kate in No Reservations (2007)
She's gorgeous, sure. And the popularity of Kate's swanky restaurant in this foodie romance shows that she's got a way with her sauces. But her total inability to relax amidst the chaos and cede even a bit of control to her new co-chef Nick (Aaron Eckhart) when crisis hits shows her true colors. Even the owner of the restaurant (Patricia Clarkson) secretly wants her out! For her bad attitude, Kate gets punished with the number eight slot.

7. Queen Latifah as Georgia Byrd in Last Holiday (2006)
OK, so Georgia starts out this remake too shy to indulge in the sexier side of food, and all that wasted time prevents her from moving up in the ranks on this list. But once she's declared terminally ill, all bets are off. With the assistance of seasoned Chef Didier (Gerard Depardieu), she starts churning out a succession of gourmand delights — duck hash on toast, roasted quail with chorizo stuffing — so enticing that the Food Network was moved to post the recipes on its site for all to enjoy.

6. Conchata Ferrell as Fiona Urich in Mystic Pizza (1988)
What exactly is in Mama Fiona's mysterious secret sauce that makes her pizzas so ridiculously delicious? Her young acolytes (Julia Roberts, Annabeth Gish, Lili Taylor) are dying to know, as surely is any pizza obsessive forced to sit through this movie watching delicious pie after steaming pie parade across the screen. Still, man can not exist on pizza alone, so Fiona stays comfortably at number seven.

5. Meryl Streep as Julia Child in Julie and Julia (2009)
Streep's trilling turn as culinary icon Julia Child isn't for everybody. Though she certainly has a way with the classics — as the movie's memorable aspic scene makes clear — this Julia isn't so much a comforting cook as she is hyperactive experimenteur. All that clapping and fluttering about the pots and pans lands her smack dab in the middle of this list. Hey, you'd probably prefer her Julia in your kitchen, than John Belushi's version.

4. Keri Russell as Jenna Hunterson in Waitress (2007)
Ah, Jenna. Russell's sweet-as-pie portrayal of this down-on-her-luck waitress is enough to make any gourmand with a heart want to pluck her right out of small-town U.S.A. and install her at their stove. The fact that she deals with all the considerable troubles life hurls her way (an abusive husband, an unwanted pregnancy) by kneading them into mouth-watering creations like I Hate My Husband Pie and Bad Baby Pie just makes her all the more alluring.

3. Adam Sandler as John Clasky in Spanglish (2004)
How could a schmoe like Sandler beat out the comely Keri Russell in this culinary battle? If you have to ask, then you're clearly not a true gourmand. The delectable morsels he effortlessly whips up in this comedic drama — the ridiculously perfect bacon, Jack cheese, butterhead lettuce on country loaf topped with a silkily soft-fried egg, in particular — inspire hunger cravings like almost no other movie morsels. Still, curmudgeonly Claskey lacks the sensual appeal of other movie chefs, such as…

2. Juliette Binoche as Vianne Rocher in Chocolat (2000)
Johnny Depp may be the eye candy in this fantastical food romance, but it's Binoche's Rocher who whips up the chocolate confections that deliver the movie's sweetest stuff. Her handmade treats are so seductive that in no time the uptight townspeople in her new village are transformed into the kinds of folks who see love everywhere. Who wouldn't want a little food-induced romance in their life? The power of Rocher's technique lands her squarely at number two.

1. Aaron Eckhart as Nick in No Reservations (2007)
He's handsome. He's witty. He's talented. And most importantly, he's the kind of guy who can pump up his line cooks by blasting a little opera when things get tense, and he never, ever lets his personality get in the way of putting out the kind food that wins over the stuffiest critics. But what earns Eckhart's Nick first place in this battle royale? The fact that he wins over both his nemesis (Catherine Zeta-Jones) and her adoptive daughter (Abigail Breslin) through a subtle combintation of cookery and good old-fashioned charm.
Click here to find out when Mystic Pizza is showing on AMC.
Click here for a look at the most memorable meals in the movies.

Read More