TIFF 2009 – New Movies Starring Ethan Hawke, Matt Damon and Megan Fox to Headline at Toronto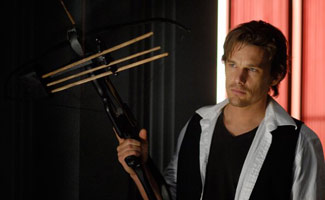 The 34th annual Toronto
International Film Festival (Sept. 10-19) is shaping up to be a
spectacularly star-studded affair. Check out some of the big names with movies
in the fest: Matt Damon, Julianne Moore, Michael Douglas, Jennifer Garner,
Susan Sarandon, Jude Law, Nicolas Cage, Megan Fox, Ethan Hawke, Ellen Page,
Johnny Depp, Colin Farrell, Natalie Portman, Penelope Cruz, Charlize Theron,
Ewan McGregor, George Clooney, Naomi Watts and Paul Bettany — who's in both the
opening and closing night films (Creation
and The Young Victoria, respectively).
Even comedian Chris
Rock, the Grammy-winning rock duo The White Stripes, and Playboy founder Hugh Hefner
are in TIFF movies this year. Hefner, the subject of Brigitte Berman's
documentary Hugh Hefner: Playboy, Activist and Rebel, announced on his
Twitter feed that he's bringing his new set of girlfriends with him to Toronto.
The list of directors with movies at TIFF is pretty impressive
too: Terry Gilliam, Michael Moore, Todd Solondz, Steven Soderbergh, Jason
Reitman, Pedro Almodóvar, the Coen brothers, and George Romero. Expect first-time helmers like ex-fashion designer Tom
Ford with his Colin Firth-starrer A
Single Man and actress Drew Barrymore with her roller-derby adventure Whip It (starring Ellen Page) to produce
some serious buzz.
The Toronto International Film Festival is known as the unofficial launch pad
for movies aiming for inclusion in the upcoming awards season. Last year Rachel Getting Married, The
Wrestler, Waltz With Bashir and eight-time Oscar winner Slumdog Millionaire all got their initial push at Toronto.
AMC News correspondent Jacob
Soboroff and the AMC News team
are all heading to Toronto
to cover this year's TIFF. Keep your eye out for our in-depth interviews, red
carpet reports, and behind-the-scenes commentary on-air, online and on our Twitter feed straight
from the festival.
In the meantime check out some of the big films showing at
TIFF this year, with descriptions courtesy of the festival:

A Serious Man
Directors: Joel Coen and Ethan Coen
(World Premiere)
Imaginatively exploring questions of faith, familial responsibility, delinquent
behaviour, dental phenomena, academia, mortality and Judaism — and
intersections thereof — A Serious Man is the latest from Academy
Award-winning writer-directors Joel and Ethan Coen.
Broken Embraces
Director: Pedro Almodóvar
(North American Premiere)
Harry Caine (Llius Homar of Bad Education), a blind writer, must heal his wounds from fourteen years ago, when he was still known by his real name,
Mateo Blanco, and directing his last movie with his leading lady (Penelope
Cruz). As the past is revisited, a story of amour fou unfolds, dominated
by fatality, jealousy, the abuse of power, treachery and a guilt complex.
Capitalism:
A Love Story
Director: Michael Moore
(North American Premiere)
On the 20-year anniversary of his groundbreaking masterpiece Roger & Me, Moore's Capitalism: A Love Story comes home to the issue he's
been examining throughout his career: The disastrous impact of corporate
dominance on the everyday lives of Americans (and by default, the rest of the
world).
Chloe
Director: Atom Egoyan
(World Premiere)
Catherine (Julianne Moore), a successful doctor, suspects her husband
David (Liam Neeson), a handsome music professor, is cheating on her. To
lay her suspicions and fears to rest, she hires an irresistible young woman,
Chloe (Amanda Seyfried), to test David's fidelity. Chloe's torrid tales of her
encounters with David lead Catherine on a journey of sexual and sensual
re-discovery. But by opening the door to temptation, she puts her family in
great danger.
Daybreakers
Directors: Michael Spierig and Peter Spierig
(World Premiere)
Ethan Hawke, Willem Dafoe and Sam Neill star in this scifi
horror about a future populated by vampires where humans are the minority.
George A. Romero's Survival of the Dead
Director: George A. Romero
(World Premiere)
Master director George A. Romero returns to his world of the undead, this time
pitting two feuding clans in the middle of the fallout of a zombie epidemic.
The Imaginarium of Doctor Parnassus
Director: Terry Gilliam
(North American Premiere)
Heath Ledger's final film. This fantastical morality tale tells the
story of Dr. Parnassus and his travelling show, the extraordinary
'Imaginarium'. Blessed with the remarkable gift of guiding the imaginations of
others, Dr. Parnassus is cursed with a dark secret. Colin Farrell, Jude
Law and Johnny Depp also star.
The
Informant!
Director: Steven Soderbergh
(North American Premiere)
Mark Whitacre (Matt Damon), a rising star at agri-industry giant Archer
Daniels Midland (ADM), suddenly
turns whistleblower. Exposing his company's multinational price-fixing
conspiracy to the FBI, Whitacre imagines himself as a kind of de facto secret
agent. Unfortunately for the FBI, their lead witness hasn't been quite
forthcoming about helping himself to the corporate coffers. Based on the true
story of the highest-ranking corporate whistleblower in U.S. history.
Jennifer's Body
Director: Karyn Kusama
(World Premiere)
Jennifer's Body tells the story of small-town high-school student
Jennifer (Megan Fox) who is possessed by a hungry demon and transitions
from being "high school evil" — gorgeous (and doesn't she know it), stuck up and
ultra-attitudinal — to the real deal: evil/evil. Written and executive produced
by Oscar-winner Diablo Cody (Juno).
Director: Derrick Borte
(World Premiere)
In the comedic drama The Joneses, Kate Jones (Demi Moore) and
Steve Jones (David Duchovny) are a picture-perfect couple who, at first
glance, are the embodiment of the American dream. When they move their family
into suburbia, the Joneses immediately become the envy of the residents around them
with their luxury cars and their gorgeous home. But little do their neighbours
realize that this family isn't what it appears to be, and everyone is about to
find out that keeping up with the Joneses isn't as easy as it seems.
Love and Other Impossible Pursuits
Director: Don Roos
(World Premiere)
Emilia Woolf (Natalie Portman) is a Harvard law school graduate and a
newlywed, having just married Jack, her high-powered New York lawyer boss (Scott Cohen). Her life
takes an unexpected turn when the couple loses their newborn daughter. An
adaptation of an Ayelet Waldman novel, this tearful and terrific tale by
writer-director Don Roos proves that even with a pursuit like love, nothing is
impossible.
Director: Grant Heslov
(North American Premiere)
Reporter Bob Wilton (Ewan McGregor) is in search of his next big story
when he encounters Lyn Cassady (George Clooney), a shadowy figure who
claims to be part of an experimental U.S. military unit. According to
Cassady, the New Earth Army is changing the way wars are fought. A legion of
"Warrior Monks" with unparalleled psychic powers can read the enemy's
thoughts, pass through solid walls and even kill a goat simply by staring at
it. When the programme's founder, Bill Django (Jeff Bridges), goes
missing, Cassady's mission is to find him in this quirky dark comedy, inspired
by a real story.
Solitary Man
Directors: Brian Koppelman and David Levien
(World Premiere)
Ben Kalmen (Michael Douglas) is feeling his age, but you wouldn't know
it from the company he keeps. A former mogul with a chain of car dealerships,
until legal troubles knocked him out of business, Ben now keeps a grip on the
world through his relationships with women – many women.
Triage
Director: Danis Tanovic
(World Premiere)
Mark (Colin Farrell), a war photographer, returns home from Kurdistan without his friend and colleague David (Jamie
Sives). As time goes on, it becomes clear that Mark holds the key to the truth
of David's disappearance.
Up in the Air
Director: Jason Reitman
(World Premiere)
From Jason Reitman, the Oscar-nominated director of Juno, comes a
comedy starring George Clooney as Ryan Bingham, a corporate downsizing
expert whose cherished life on the road is threatened just as he is on the cusp
of reaching ten million frequent flyer miles and just after he's met the
frequent-traveler woman of his dreams.
Read More