The Final Destination Review – Death Comes for All Men… in 3D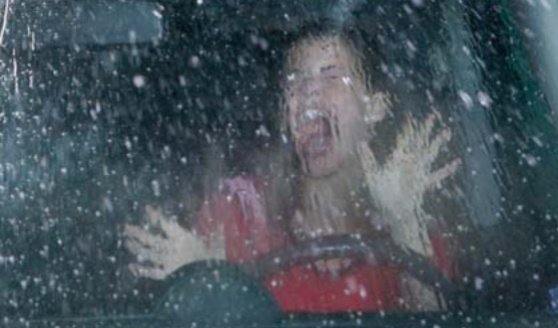 Death's a bitch and then you die. Period. End of story. OK, now let's elaborate: Take one part workplace-safety PSA, one part Appointment in Samarra and one part Rube Goldberg machine and you've got The Final Destination franchise: The takeaway message is that it's not nice to fool the grim reaper, and that if you try, you'll lose in the end. So how does it manifest this time around?
Attractive couples Nick and Lori (Bobby Campo, Shantel VanSanten) and Hugh and Janet (Nick Zano, Haley Webb) take a break from their studies to slum at McKinley Speedway, where Nick feels a disconcerting chill followed by a vision: A fiery crash kills dozens of spectators, including Nick and all his friends. When Nick comes out of his reverie and realizes it's actually a few minutes before the disaster, he hustles his pals outside, followed by a handful of others who overhear his dire predictions. But within days of the accident, the survivors Nick alerted begin dying in bizarre accidents: It appears that Death will not be thwarted, and that all those who dodged a bullet at the raceway are doomed to meet their predetermined ends one way or another.
If you leave out the speedway this could be a synopsis of any Final Destination picture, which is presumably why the most recent installment has been goosed with state-of-the-art 3D technology. It looks very nice and the filmmakers show admirable restraint in not throwing everything but the engine block at the camera, but the fact is that this is tired stuff. Like the folkloric Arab who spotted Death in a Baghdad market and fled to Samarra, only to find Death waiting to keep their pre-destined appointment, there's no question that the chosen survivors will rendezvous with the reaper. The only question is when and how. If that sounds like your idea of a good time, step right up, pay your money and take your chances.
To read the AMC Filmcritic review of Final Destination, click here.
Read More