Uncategorized
Movie History – The Ever-Changing Landscape of Movies on Television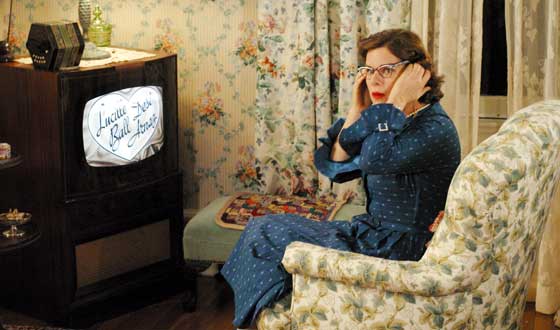 Hollywood has always been a little fearful of television. Indeed, in the early days, the studios forbade their movies and stars from appearing on the small screen at all. In the 1950s, the industry went even further, competing with the medium via wide screens, enhanced color technology, and 3D gimmickry. But inevitably, the studios came to see that TV wasn't going away and that collaboration could be mutually beneficial. Here's a timeline of how the interrelationship of movies and television evolved from enemies to friends.
Theater Television, Late 1940s to Early 1950s
All of the major Hollywood studios fought television with what they called "theater television": Closed-circuit screenings of TV programs in movie theaters. Since the Big Five studios owned extensive theater chains, this strategy was easily implemented. The Theater Television Network, founded in 1951, aired shows in participating theaters where audiences were provided with costlier programs incorporating political news coverage, prizefights, NCAA games, etc. Although over 100 U.S. theaters had installed theater television by 1952, the phenomenon faded shortly thereafter.
Hollywood Gimmicks vs. TV, 1950s
Still fearful of losing audiences to the screens in their living rooms, Hollywood enticed filmgoers with expensive epics, gimmicky 3D releases, stereo sound, and widescreen formats such as CinemaScope, VistaVision and Panavision. Bwana Devil (1952) was the first full-length 3D talkie; This is Cinerama (1952) was the first to use a wrap-around, widescreen format; and The Robe (1953), the first movie released in CinemaScope, was recorded in four-track stereo.
Subscription Television, Late 1940s to 1960s
Years before HBO, Cinemax or Showtime, an early version of subscription/pay television (called "pay-see" or "toll-video" by Variety) equipped regular TV sets with coin-boxes or punch-card systems that, when activated, allowed customers to unscramble the relevant broadcast signal to view special content. Technological and financial issues combined with the threat of government regulation doomed this direct pay system to failure.
Advertising Movies on Television, 1953
Expensive promotional TV advertising for the scifi flick The Beast From 20,000 Fathoms (1953) marked one of the first times that film advertising successfully exploited television to drive people to movie theaters nationally.
Hollywood Studios and TV Production, Mid-1950s to 1970s
A number of Hollywood's independent producers created television shows in the late '40s and early '50s: Low-budget westerns (The Roy Rogers Show, The Lone Ranger, etc.); crime/mystery shows (Mark VII Production's Dragnet, MPTV's Adventures of Superman, etc.); and sitcoms (I Love Lucy and Our Miss Brooks). At first, filmed programs ran second to high-quality live dramas, but eventually, pre-recording became the standard mode of production thanks to the profitability of reruns and syndication. By 1953, many major studios became actively involved — notably Disney (with its weekly ABC Disneyland in 1954 promoting the theme park and recycling already-released products, and its afternoon TV show The Mickey Mouse Club in 1955); Warner Bros. (with Warner Bros. Presents and the western Cheyenne in 1955); MGM (with its documentary series MGM Parade in 1955); and 20th Century Fox (with its drama anthology 20th Century-Fox Hour from 1955 to 1957). By the end of 1957, more than 100 Hollywood-produced television series were being broadcast or in production. By 1960, Hollywood dominated prime time.
The First Made for TV Movie, 1964
In the mid-1950s, major studios began to release older black-and-white B-movies to television, albeit primarily to individual stations, not networks. In 1961, NBC became the first network to premiere recently released, major studio films on the tube. Its popular weekly show Saturday Night at the Movies, was immediately duplicated by the other networks, and by 1968, every night of the week featured a prime-time movie. This phenomenon lasted through the '70s, triggering Hollywood to produce its own made-for-TV movies and miniseries beginning in the mid-'60s. The first made-for-TV movie, broadcast on NBC, was See How They Run (1964).
The First Satellite-Delivered National Cable TV Network, 1972-75
The growth of cable TV was regarded as a serious threat to advertiser-supported broadcast television networks, independent stations, and movie theaters. These older institutions were protected by Federal Communications Commission rulings that restricted cable systems from importing distant television signals. After cable deregulation in the early '70s, one of the earliest subscription-based cable networks was The Green Channel. After Time Inc. backed it in 1972, the name changed to HBO (Home Box Office), and the channel began using microwave transmission when the Service Electric Company offered the programming over a small Wilkes-Barre, PA CATV system. Its debut included a hockey game and the first commercial-free airing of Sometimes a Great Notion (1970). The three-year-old company, basing its revenues on subscribers, bet HBO's future on satellite programming distribution and signed a six-year, $7.5 million contract to allow access to RCA's recently-launched communications satellite Satcom I in 1975. HBO inaugurated its satellite-delivered cable service nationwide with the live transmission of the Ali vs. Frazier boxing match ("Thrilla in Manila") in October 1975. The move made HBO the first successful, satellite-delivered pay cable service in the U.S.
Blockbuster TV Marketing, 1975
The financial success of Steven Spielberg's first summer blockbuster Jaws (1975) was thanks to its release in over 400 theaters combined with three nights of nationwide prime-time TV ads on all the networks before the opening. This massive marketing push cost $700,000. Universal called it "the biggest national TV spot campaign in industry history."
VCRs, Late 1970s
Consumers had a choice of two playing/recording formats in the late '70s: VHS (Video Home System) or Sony's Betamax. Initially considered a threat to movies because consumers could tape off-the-air, the technology was re-evaluated once studios discovered lucrative sales and rentals from taped versions of their commercially-released movies. All of the major Hollywood studios had their own video divisions (e.g., Warner Bros. formed Warner Home Video in the late '70s), and by the late '80s in the U.S., income from video rentals was double that of the theatrical box office. With the arrival of the DVD in 1997, VHS soon became largely obsolete. The last major motion picture released on VHS was David Cronenberg's A History of Violence (2005).
Rapid Growth of Movie Channels, Late 1970s and early 1980s
The success of HBO in the mid-'70s spurred the growth of cable TV. Soon after, new satellite-delivered basic and premium cable TV networks were successfully competing against the major TV networks in the late '70s and early '80s, including movie channels such as Viacom's Showtime (1976, with satellite broadcast in 1978), Warner Amex's The Movie Channel (1979), Time/HBO's Cinemax (1980), the Disney Channel (1983) and AMC (1984).
Cable TV's Redefining and Diversification of Television Programming, Mid-1980s
To supplement their broadcast of Hollywood fare, the cable movie channels started making their own original films. HBO became a leader, developing the first made-for-pay-TV movie The Terry Fox Story (1983). It became the first cable network to win an Oscar, for Best Documentary Feature for Down and Out in America (1986), and an Emmy, for Dear America: Letters Home From Vietnam (1987). By the 1990s, all the major pay-TV cable networks had expanded their output, creating original series, films and miniseries, along with producing documentaries, stand-up comedy, and sports programming.
First Video Rental Store, 1985
The first bricks-and-mortal Blockbuster video rental store opened in Dallas, TX in 1985, and became a major alternative to small, local operations with limited video rental selections. It grew to become a major nationwide chain of stores, yet faced increased competition from video-on-demand (VOD), satellite TV, and lower-priced tapes combined with a shrinking market in the late 1990s.
High-Definition TV (HD-TV), 1996
Another technological advancement, still currently being developed and tweaked, is HDTV. The first public HDTV broadcast in the United States occurred in 1996. HDTV resulted in higher resolution (an increase in the number of horizontal lines on a video screen), and improved the sharpness and detail of the image. Now, feature films projected at home on HDTV screens with theater-quality audio are closer to the moviegoing experience found in commercial theaters.
Online Subscription Services, Netflix, 1998
Consumers modified their movie-watching practices again when the online DVD movie rental service Netflix began offering its website subscribers postal shipping of rented DVDs in 1998. Inevitably, Netflix experienced market-share competition from Blockbuster, Hollywood Video, and Wal-Mart (and more recently from cheap $1 DVD-rental kiosks or automated vending machines in grocery and discount stores).
Hard-Disc Based DVRs, 1999
1999 was the debut year of the popular TiVo device, a personal digital video recorder (PVR or DVR) — also dubbed a hard-disc recorder (HDR). TiVo had the capability of recording broadcast movies and episodes of favorite programs, quickly skipping past the commercials, and even pausing and rewinding live TV. Within a few years, a broadband-connected TiVo DVR offered a vast library of video-on-demand choices from many online entertainment partners.
Video-On-Demand Online, 2002
MovieLink, the much-anticipated online movies-on-demand venture was formed and then launched in 2002 by five of the top six major Hollywood studios (Sony Pictures Entertainment, Universal Studios, Paramount Pictures, Metro-Goldwyn-Mayer and Warner Bros). This marked the first time a large supply of recent, popular films were available legally on the Internet, for rent or purchase.
YouTube, 2005
The popular video-sharing website YouTube.com, inaugurated in 2005, offers visitors user-generated video content alongside (often unauthorized) short clips from copyrighted movies, television shows and music videos. More and more, consumers were viewing ad-subsidized streaming video content from legal (and illegal) online sources and new-media revenue streams, including newcomers Hulu.com, Vuze.com, Joost.com, Veoh.com, and Fancast.com.
Digital Video-Streaming, Netflix, 2007
In 2007, Netflix became the first subscription service to offer ad-free, legal video streaming of movies directly onto one's computer screen. It also teamed up with consumer electronic companies to provide a range of devices that could instantly download films or TV shows (many from the largest networks like ABC, NBC and CBS) directly to Netflix members' television sets. Other pay-movie sites using a similar model include Blockbuster, iTunes, CinemaNow.com, iReel.com, Movieflix.com, and Amazon.com.
Tim Dirks is Senior Editor and Film Historian at AMC, an educator and film buff who created the landmark, award-winning Filmsite.org in the mid-'90s and continues to write original reviews and features spanning all the years of cinematic history.
Read More