Step Aside, Vincent Price! Anthony Hopkins Is King of the Creepshow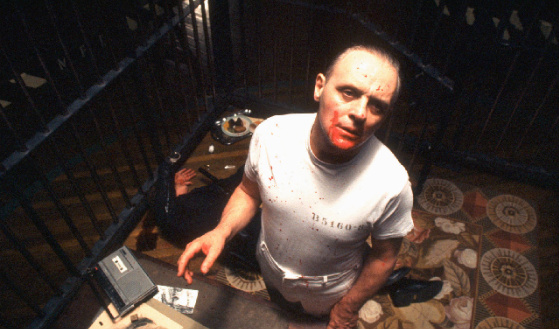 Sir Anthony Hopkins, esteemed master of the British stage, Oscar winner, Commander of the Order of the British Empire, horror star… yes, you read that right. Horror star. The Welsh-born Hopkins may not have the intimidating genre resume of fellow Brits Peter Cushing and Christopher Lee, but his creepshow cred was formidable long before he made a cultural touchstone of Dr. Lecter's slyly chilling account of eating that pesky census taker's liver with "some fava beans and a nice chianti."
And here's the kicker: In a movie career littered with forgettable TV pictures, ill-advised remakes and bills-to-pay junk like Shortcut to Happiness (you know, the notorious Devil and Daniel Webster reimagining that starred living blow-up doll Jennifer Love Hewitt as Ms. Satan) and the scifi thriller Freejack, Hopkins' horror movies have been a pretty classy bunch.
The Silence of the Lambs (1991)
Why beat around the bush? Hopkins gave the genre a new icon with psycho shrink Hannibal "the cannibal" Lecter. Yeah, it's a meaty role, but an old-school frightmeister like Vincent Price would have delivered lines like, "Good evening, Clarice" with campy relish, while Hopkins' dry, whispery tones make it the sound of pure evil. No matter that fellow-Celt Brian Cox originated the role in Michael Mann's Manhunter (1986): Hopkins owned it. The Silence of the Lambs was a perfect storm of A-list talent, but would it have scooped up five top-tier Oscars — including best picture, best director for Jonathan Demme and best actress for Jodie Foster — without Hopkins' insinuatingly malevolent performance? Well, the last horror movie to rack up comparable nominations was The Exorcist — ten to Lambs' seven — and it only won two.
Back-to-back follow ups Hannibal (2001) and Red Dragon (2002), a remake of Manhunter, were little more than showcases for the bad doctor's devilish appeal, but no matter. Dr. Lecter's place in the monster pantheon is secure.
Bram Stoker's Dracula (1992)
Like Peter Cushing before him, Hopkins plays vampire slayer Abraham Van Helsing as a man who looked too long into the abyss and found it looking back. He's a man who's on a first-name basis with evil, and his righteous ass-kicking is the link between Cushing's ascetic vampire slayer and Hugh Jackman's over-the-top swashbuckling. The much-delayed Wolfman, now scheduled for a February 2010 release, returns Hopkins to Gothic shadows and fog. This do-over of the Universal classic casts him as Sir John Talbot, the very British father of American-raised Lawrence Talbot (Benicio Del Toro), who returns home for an awkward visit with his estranged dad and winds up discovering his inner big bad wolf.
Beowulf (2007):
Before there was Dracula or Frankenstein's monster, there was Grendel, a tormented, part-human monster who vents his misery on the human race. Hopkins, who plays Danish King Hrothgar, is thoroughly recognizable beneath the waxy looking motion-capture animation and while he's not a monster per se, he slept with one and fathered another. Ick — even if his demon lover was the smokin' hot Angelina Jolie, complete with a tail-like whip of gilded hair.
The Hunchback of Notre Dame (1982)
Published thirteen years after Mary Shelley's Frankenstein, Victor Hugo's classic novel took up Shelley's theme of the outcast who becomes monstrous when his alienation curdles into fury. Hopkins' portrayal of the miserable hunchback earned him his third Emmy nomination.
The Elephant Man (1980)
David Lynch's somber account of another tormented outcast, the real-life John Merrick (1862-1890), who was born with disfiguring neurofibromatosis, falls somewhere between arty horror picture and horrifying art movie. For Hopkins, it was the flip side of Hunchback of Notre Dame: He plays a doctor who sees past Merrick's deformity to the gentle soul inside.
Magic (1978)
Wholesome America's Got Talent winner Terry Fator notwithstanding, there's something just plain creepy about ventriloquists and Hopkins' meek, insecure magician Corky is no exception. He's also no match for the lewd, crude alter ego he unleashes when he adds a dummy named Fats to his act.
Audrey Rose (1977)
Hopkins first dipped his toes in the horror pool with this tale of obsession and reincarnation. As a bereaved man who lost his wife and daughter to a fiery car crash but believes his little girl has been reincarnated as another family's child, Hopkins walks a tricky line. Is he literally mad with grief, or has he stumbled onto a truth that 20th-century Westerners don't want to believe? This kind of role seperates the hacks from the real actors, and he comes through with flying colors.

Click here for the full schedule of Magic on AMC.
Read More