Stacie Ponder – What to Expect When You're Expecting Rosemary's Baby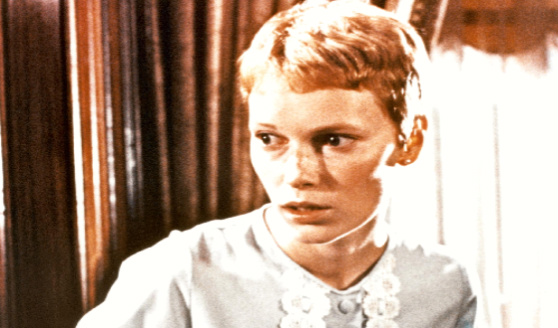 Earlier this week, a friend called to tell me she's pregnant. After a few moments of the obligatory "Congratulations, miracle of life, Hakuna Matata, you should name it after me!" chatter, things took a decidedly darker turn. We talked about how she's now got this parasite growing within her, leeching her dry and changing her body; how she's going to be the flesh-and-blood equivalent of a Russian nesting doll for the next nine months, until that fateful day when another human being, screaming and covered in red goop, bursts out of her one way or another.
What can I say — we're horror movie fans. And it seems we're not alone in finding the whole childbirth thing a little macabre. I've decided to set up a movie marathon for my expectant friend, so that no matter what happens we'll be ready for it. The line-up isn't finalized, but these six movies are the next best thing to shoe ins… hmm, maybe I should ask if she's ever had any late-night visits from Satan after a wild evening imbibing chocolate mousse.
6. Grace
There's lots of buzz surrounding writer/director Paul Solet's new movie about a mother who decides to carry her dead, unborn child to term, a lot of it from me. I guess Grace's mom isn't a horror movie fan, because if she were she would have seen Zack Snyder's Dawn of the Dead and been really prepared for her little bundle of joy — by which, of course, I mean "death" — to reanimate with an appetite for blood and destruction.
5. The Unborn
No, not the 2009 movie about evil children and possession… I'm talking about the 1991 masterpiece that features evil fertility doctors and comedienne Kathy Griffin as a lesbian. In this age of octuplets and hundred-tuplets (all thanks to the miracle of drugs), The Unborn is a must-see cautionary tale for every couple considering in-vitro fertilization. Plus it's an absolutely trashtastic flick.
4. Baby Blood
In this sleazy, gory extravaganza, an alien parasite that was living inside a leopard bursts busts a move out of the kitty and into a woman. As it grows, it demands blood, blood and more blood, forcing the mom-to-be to kill to quench its insatiable hunger. I swear, you read about this kind of thing in the papers all the time — don't moviemakers have any imagination anymore?
3. Inside (A l'Interieur)
What is it with the French and their pregnancy issues? This gruesome thriller is a different kind of pregnancy scare film — it's not the baby you need to worry about, but rather some nameless wackadoo who's trying to rip it right out of your womb. This is the picture for which the phrase "not for the faint of heart" was invented.
2. It's Alive
When couples find themselves pregnant, their thoughts inevitably turn to what their child will grow up to become. A doctor? A lawyer? A Carol Channing impersonator? An Oak Ridge Boys fan? I think it's safe to say that not even the most imaginative prospective parents could predict that their newborn would be a hideously deformed, be-fanged monster capable of slaughtering a room full of doctors before escaping into the Los Angeles sewer system. Wait… actually, if I were pregnant I'd consider that a very real possibility!
1. Rosemary's Baby
This classic shocker may just be the mother of all pregnancy scare flicks. Soon after moving into a spooky New York apartment building, Rosemary (Mia Farrow) begins to suspect that her elderly, nosy-but-nice neighbors may actually be — dun dun dunnnn — nosy-and-not nice! Turns out, that's putting it rather mildly; Rosemary's neighbors have decided she'd make the perfect mommy for Satan's baby. Chalky chocolate mousse, paranoia, hallucinations and rape ensue! That Satan, what a charmer.
So there you have it. Now, what movies would you include in a "scare the pants off your pregnant friend" movie marathon?

A fan of horror movies and scary stuff, Stacie Ponder started her blog Final Girl so she'd have a platform from which she could tell everyone that, say, Friday the 13th, Part 2 rules. She leads a glamorous life, walking on the razor's edge of danger and intrigue.
Read More