Uncategorized
Q&A – Splat Pack Director Eli Roth on His Real Acting Debut With Inglourious Basterds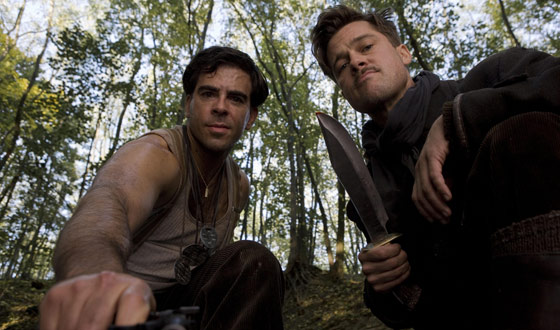 Real Acting Debut With Inglourious Basterds" width="560″/>

People tend to think of Eli Roth as a director — a member of the Splat Pack and a purveyor of torture porn. With World War II movie Inglourious Basterds, Roth moves in front of the cameras again, thanks to his friend and mentor Quentin Tarantino, who gave him the part originally offered to Adam Sandler. Roth reveals what it was like to step up to bat.
Q: You've had cameos, even bit parts. But do you consider this your first real acting role?
A: A hundred percent, yes. Everything else, except maybe Death Proof, was not proper acting. I'd go by a friend's set to say "Hi" and then I'd jump into the shot, and as a joke, they would put me in the end credits. For Cabin Fever, I was replacing an actor at the last minute. But Quentin loved that so much he put me in Death Proof, which was easy enough — I was the dorky Jewish guy trying to pick up on girls in a bar and failing miserably. Was that really acting? But afterwards, he told me, "You nailed my dialogue. Every time I cut to you, you got it perfectly."
Then Quentin started dropping hints that maybe he would cast me in Inglourious Basterds.
I figured it would be a small part, but then it was, "Pack your bags,
we're going to Germany." And he warned me, this wasn't walking into a
bar and telling jokes. So I put on 40 pounds of muscle, so that when I
come out of the cave with a bat, I would be physically imposing. I went
back to Boston to get my accent back; I talked to World War II
veterans. If I'm going to hold the screen with Brad Pitt, I had to
bring it.
Q: Staff Sgt. Donny Donowitz doesn't do any scalping — he's too busy
bashing heads with his bat. Doesn't every member of the Basterds owe
Raine 100 Nazi scalps?
Q: Ah, he doesn't owe any scalps. He's more the enforcer. The
beating scene, that was a six day shoot, and I was waiting to get out
of the cave. And finally, on day five, I let the guy have it. And by
the end of the day, I wanted to crawl in a hole and die. When you're
the director, you know it's fake, but you're thinking of it like it's
an empty puzzle and you have to get all the pieces. But as an actor,
you're thinking of the most painful breakup you've ever had, of people
who have died, so when the day is over, it's very real to you. Any time
there's killing, as fun as it is to watch, it's painful to shoot.
Q: Physically as well?
A: The fire scene at the theater was like 2000 degrees. It was
supposed to stay ten feet away from us, and I got burned really badly.
I had fire gel on my body, but not on my hands, because you need to see
my hands, so when you see me wincing, that's for real. It paralyzed us,
because we had to keep on shooting. At least we weren't on fire.
Imagine if the flames were actually on us! Imagine a car that's on fire
and you're trapped inside. It was terrifying.
Q: And on the screen behind them, your film-within-a-film, Nation's Pride. Very Leni Riefenstahl…
A: This had to impress Hitler! [Laughs] I did that in
five days, with my brother as the second unit director. We had five
stunt guys, and 120 set-ups, 200 shots for this little film. Quentin gave me an extra day with Daniel Brühl and we cut the whole
thing together. It really helps the propaganda.
Q: Funny, I always thought Hitler committed suicide with Eva Braun. That's not the case here…
A: I love Schindler's List, but I think what Quentin
does is allow you to bring your own associations. A lot of people,
myself included, had fantasies after 9/11 of killing people, so this
taps into a very real emotion. And it's grounded in a sense of reality
since we used French, German, Italian.
Q: You had a whole backstory for Donowitz that never made it to the screen.
A: Quentin's basically written a prequel. If he does it, he's
going to use some of the scenes we shot that didn't make it in. He's
thought every character through before, during, and after the war, what
he would have gone on to do. There are sixteen different storylines. We
could use it as a play, as a graphic novel, as a radio serial. He truly has
created a universe here.
Read More