Now or Then – Funny People or Happy Gilmore?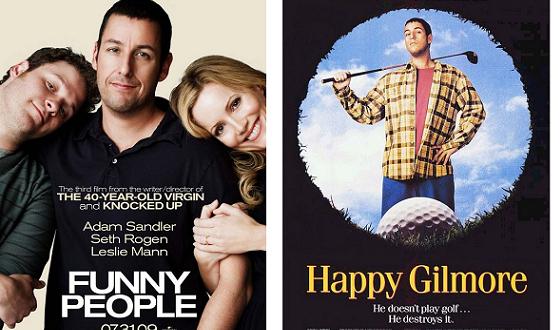 Funny People or Happy Gilmore?" width="560″/>
Now: Funny People (2009)Then: Happy Gilmore (1996)
We've seen him do pseudo-serious in films like Spanglish and Punch Drunk Love, but with Judd Apatow's Funny People, Adam Sandler, once the poster child for hilariously dumb American comedies, finally tackles a genuinely complex role, as a famous comedian suffering through a momentous personal crisis. So, how does Sandler 2.0 compare with Sandler 1.0? We put Funny People up against a quintessential early Sandler comedy, the golf flick Happy Gilmore, to see which one lands on top.
The Conflict
Funny People: Sandler plays George Simmons, a famous comedian-cum-movie star who, upon discovering that he's suffering from a rare and probably-fatal blood disorder, returns to his stand-up roots.
Happy Gilmore: Sandler plays Happy Gilmore, an incompetent wannabe hockey player who tries to put his powerful slapshot to good use by joining a golf tournament, in order to save his beloved grandmother's house.
Winner: Funny People. We're really starting to like the new, sensitive Adam Sandler.
The Student and the Master
Funny People: Aspiring
comedian Ira Wright (Seth Rogen) takes tips from George about honing
his comedic craft, even as he has to also act as his driver, his
assistant, and his opening act.
Happy Gilmore: Happy has to
be tutored in the art of golf by Chubbs (Carl Weathers), a pro who had
to retire when his hand was bitten off by an alligator.
Winner: Funny People. Two very different movies with different scenarios, but the relationship between Ira and George is deeply touching.
The Psychotic Nemesis
Funny People: George
and Ira find themselves facing off against Clarke (Eric Bana), the
intense, foulmouthed Australian husband of Laura (Leslie Mann),
George's love from ages ago.
Happy Gilmore: When he joins the
PGA Tour, Happy finds himself in the crosshairs of cheesy, hyper-competitive
golf pro Shooter (Christopher McDonald).
Winner: Happy Gilmore.
Eric Bana gives one of his best recent performances to date, but McDonald's
Shooter is one of the great villains of recent American comedy.
Verdict
Winner: Funny People. As much a drama as it is a comedy, it contains some of the funniest and saddest bits of Sandler's career.
Read More