Modest Mouse Music Video Directed by Heath Ledger Debuts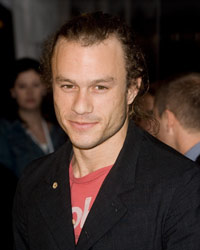 The final works of the late actor Heath Ledger, who died in January 2008 of a drug overdose, continue to live on in the worlds of both film and music.
Earlier this month "King Rat," a music video Ledger directed (but never finished) for indie rock band Modest Mouse, debuted on MySpace. The song is a bonus track from import pressings of the band's 2007 album, We Were Dead Before the Ship Even Sank, and is also on their latest EP No One's First, and You're Next.
The six-minute animated video shows dolphins and whales on a boat fishing for humans in the ocean. The role-reversal in the video's storyline was Ledger's way of raising awareness about the illegal whale hunts that take place off the coast of his native Australia.
In 2007 Modest Mouse frontman Isaac Brock spoke to Vh1 about the video's genesis:
"Heath and I have a mutual friend and when we were in Australia, my fiance and some of us in the band went out on a boat with him and his family and friends and talked about the idea…The idea seemed sort of dropped, but then he just sent me an email saying that he wanted to do it."
At the time of his death, Ledger had the video planned out but the animation wasn't finished. The video sat unfinished until March of this year when Modest Mouse announced that they were going forward with completing it as a way to honor Ledger's directorial work.
Members of The Masses, a Los Angeles-based film, music and art collective in which Ledger was a partner, finished the animation and the video. At the end of it, Modest Mouse salutes Ledger on-screen with a heartfelt, personal message:
This began with our friend,
A great defender of life,
And was completed in his spirit.
"King Rat" wasn't the first music video that Ledger had directed. He was actually a budding director with several videos to his credit including 2006's "Morning Yearning" for singer/songwriter Ben Harper and two clips for hip-hop collective NFA.
iTunes is currently selling "King Rat" as a video download with the first month's proceeds going toward the Sea Shepherd Conservation Society, an international non-profit, marine wildlife conservation organization. According to their website, SSCS's mission is "…to end the destruction of habitat and slaughter of wildlife in the world's oceans in order to conserve and protect ecosystems and species."
Next month Ledger's final movie, The Imaginarium of Dr. Parnassus, directed by Terry Gilliam, will have its North American premiere at the Toronto International Film Festival. Distributor Sony Classics will likely release the film in the U.S. later this year.
Read More