Mary Robinette Kowal – Hit the (Yellow Brick) Road With Fantasy's Ten Best Treks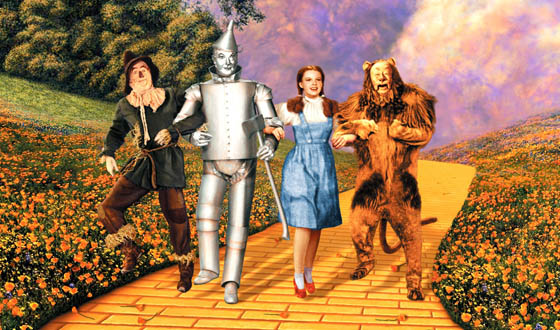 My husband and I are moving cross-country. In fact, I should be in a giant truck driving out of New York City when this column goes up. Not surprisingly, my head is full of nothing but packing and my apartment is full of nothing but boxes. But I am looking forward to the road trip. We'll be staying with different friends all along the route, which makes it less a chore and more an adventure. Anticipating that, today we'll look at the best road trip movies in fantasy.

10. Highlander (1986)
This gets the prize for the longest time spent on a journey — if not the most quality time. Beginning in 1518 in the village of Glenfinnan on the shores of Loch Shiel, Connor MacLeod (Christopher Lambert) travels to Japan, Germany, Boston and finally winds up in New York City. It's a long and lonely road as he outlives everyone he knows — but at least there are plenty of heads to chop along the way.
Favorite Tourist Attraction: Brocket Hall

9. The Dark Crystal (1982)
Sure, there are prophecies and threats, but what really makes this movie shine is the voyage that Jen (Stephen Garlick / Jim Henson / Kiran Shah) goes on to get from the valley of the Mystics to the great castle of the Skeksis. In this case, the landscape becomes as much a character as any of the creatures — and you know how much I love me the creatures.
Favorite Tourist Attraction: Aughra's Observatory

8. Stardust (2007)
This one has a load of transportation options: Tristan (Charlie Cox) and Yvaine (Claire Danes) travel by foot, unicorn, carriage, candle, and flying ship to get back to the wall between worlds. Like every good road trip, the journey brings our two lovers closer together. The only trick is, Yvaine can't go home with Tristan or she'll turn to dust. What's a road trip without a little spontaneity? They change their destination plans and still manage to make it happily ever after.
Favorite Tourist Attraction: Captain Shakespeare's ship

7. The Lord of the Rings (2001-2003)
This is a road trip so vast that it spans three movies. Don't be fooled into thinking that the story is all about taking the Ring back to Mordor. Oh no, this is an excuse to go on a very, very long journey — hence why they didn't just use one of those eagles to drop the Ring in Mount Doom. But in case you think it too long, just imagine how much longer it would have been if Frodo (Elijah Wood) and gang had visited Tom Bombadill along the way.
Favorite Tourist Attraction: Rivendell

6. The Forbidden Kingdom (2008)
What's more exciting than a road trip? A road trip with giant battles along the way! That's right, the next time you get a hankering for the open road, you too could travel back in time and then all the way across China in an effort to return a staff. Then again, you could just get the thing Fed-Exed. Time travel or no, it would certainly be the quicker option.
Favorite Tourist Attraction: Anji bamboo forest

5. The Phantom Tollbooth (1969)
If you find a tollbooth in your bedroom, it seems like the logical thing to do is go right through it. Milo (Butch Patrick) hits the road with his car, Tock the watchdog, and no clear idea where he's going. Aside from fulfilling every childhood fantasy to have your own car (and drive it), sometimes the best road trips are about the journey. Heck, with destinations like Doldrums and Digitopolis, what's the rush?
Favorite Tourist Attraction: Dictionopolis

4.The Golden Compass (2007)
Possibly winning the prize for the most stylish form of transportation, Golden Compass ranges across the Earth from London to the Arctic Circle. While there's also some traditional travel, Lyra (Dakota Blue Jennings) travels by barge, hot air balloon, zeppelin, broomstick and polar bear to get where she's gotta go. I'm all for road trip by polar bear.
Favorite Tourist Attraction: Oxford

3. The Fall (2006)
This is one of the most visually stunning movies I've ever seen, and I want to go to every single location in it. Traveling largely on foot or horseback (with a brief stint of swimming elephants), Alexandria (Catinca Untaru) hits up the four corners of the world and presents the perfect road trip movie for those who feel confined to their own realities, be they hospital beds or cubicles.
Favorite Tourist Attraction: Do I have to pick just one?

2. The Neverending Story (1984)
Granted, I'd have to leave all my belongings behind (which given the amount of packing I've been doing is looking better and better), but if you gave me a choice of travel by Luck Dragon versus Moving Truck, I'd totally take the dragon. Bastian (Barret Oliver) dives into a book and leaves our world behind. And once he's in Fantastica, Falkor is there to take him on the most fantastic road trip of all time. Well, almost the most fantastic.
Favorite Tourist Attraction: Childlike Empress's Palace
1. The Wizard of Oz (1939)
Do I really need to say anything else besides, "We're off to see the Wizard?" Dorothy (Judy Garland) travels by foot, tornado, horse of a different color and ruby slippers. The perfect metaphor for a road trip, we finish off with the simple message that at the end of the road, there's no place like home. Dorothy? I know exactly how you feel.
Favorite Tourist Attraction: Salon at the Emerald City

Mary Robinette Kowal is the winner of the 2008 John W. Campbell Award for Best New Writer and a professional puppeteer. Her first novel Shades of Milk and Honey is being published by Tor in 2010.
Read More