Maitland McDonagh – The Best and Worst of the Halloween Movies (Pre-Zombie)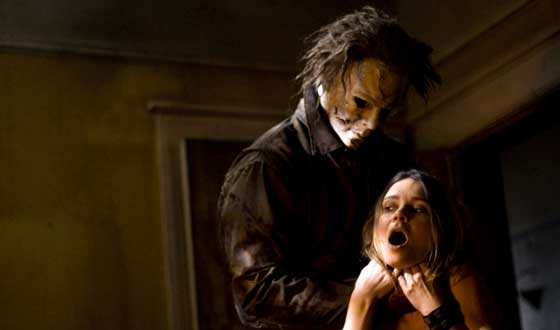 More than 30 years after the night he came home, Michael Myers is coming home again in Rob Zombie's Halloween II. Zombie's 2007 reboot of the lucrative franchise was the exception that proved the rule, a remake that neither slavishly recreated the original with gorier special effects nor slapped a familiar title on a generic fright flick. So what better time to take a look at the original Halloween movies and see how they hold up and stack up?
1978 was a good year for horror: Releases included George Romero's Dawn of the Dead, Joe Dante and John Sayles' Piranha, Meir Zarchi's polarizing I Spit on Your Grave, The Toolbox Murders, Larry Cohen's offbeat It Lives Again, The Manitou, The Legacy, Philip Kaufman's Invasion of the Body Snatchers remake and the divinely decadent Eyes of Laura Mars (co-written by John Carpenter). But Halloween was in a class of its own, a little movie that came out of nowhere and changed the face of American horror. There's no question but that it's one of a kind: In 2006, the Library of Congress chose Halloween for preservation in the National Film Registry on the grounds that it was "culturally, historically or aesthetically significant." But how about the rest? Let's count 'em down:
8. Halloween III: Season of the Witch (1982)
These are the times that try fans' souls. However piss-poor some other Halloween sequels may have been, at least they had Michael Myers. It's all very well to buy a screenplay by acclaimed U.K. writer Nigel Neale (The Quatermass Xperiment), but if it's about cursed Halloween costumes instead of Michael-
the-killing-machine, it's a rotten deal. The only reason Halloweeniacs didn't hunt down writer/director Tommy Lee Wallace and kill him is that when he was Halloween's production designer he bought a mass-market Captain Kirk mask, stripped off its hair and painted it white, thereby inventing the "face" of Michael Myers.
7. Halloween: The Curse of Michael Myers (1995)
The culmination of the deranged story arc that began with Halloween 4, Curse reveals that the black-clad dude (actually Dr. Wynn from the first movie — not that anyone remembers who in the hell Dr. Wynn was) who rescued Michael Myers at the end of Halloween 5 leads some nutty druids called the "Cult of Thorn." He also kidnapped Michael's niece, Jamie, and got someone to knock her up; she goes on the run with her baby and poor Tommy Doyle (who grew up to be comedian Paul Rudd!) — remember the little kid Laurie Strode babysat for back in Halloween? — gets sucked into the whole sorry mess. Pretty much anyone who hadn't already bailed on the series got out after seeing this one, which featured Pleasance's last appearance in the series; he died more than seven months before it was released. Director Joe Chapelle went on to distinguish himself for his work on TV's exemplary The Wire, something no-one could ever have predicted based on this movie.
6. Halloween 5: The Revenge of Michael Myers (1989)
Directed by Swiss-born, Canadian-based junkmeister Dominique Othenin-Girard (Omen IV: The Awakening, Private Lessons: Another Story, Red Shoe Diaries 5: Weekend Pass ), this one picks up immediately after the end of Halloween 4. Jamie is mute and has a telepathic connection with Uncle Michael that Loomis uses to recapture his former patient. But at the end some mysterious "man in black" busts him out of jail. Fans said, "Oh, for God's sake!"
5. Halloween 4: The Return of Michael Myers (1988)
OK, ten years after Halloween II — because apparently everyone agreed it was best never to speak of Halloween III again — Laurie Strode has died in a car crash and Michael emerges from a coma to go looking for his niece, Laurie's daughter Jamie Lloyd (Danielle Harris); Dr. Loomis (Pleasance) tries to stop him from doing very bad things. This edition was directed by journeyman Dwight Little, who's done some nice TV work, but he doesn't bring a thing to the Halloween franchise with this profoundly unmemorable time-waster.
4. Halloween: Resurrection (2002)
The last Halloween movie before the Zombie reboot, Resurrection — in which a pack of nubile young people sign on for a realty spook show set in the old Myers house — was scripted by genre veteran Larry Brand (The Drifter) and Sean Hood (The Crow: Wicked Prayer, Cube 2: Hypercube). Let's just say that their screenplay was a hell of a lot better Rick Rosenthal's (Halloween II) 100 percent suspense-free direction… whatever its faults, the story managed to connect the Halloween mythos to something genuinely contemporary, a la the woefully overlooked My Little Eye.
3. Halloween H20: 20 Years Later (1998)
The kinda, sorta reboot: When bad sequels happen to good movies, the best thing to do is pick yourself up, dust yourself off and start all over again. Directed by Steve Miner, best know for Friday the 13th sequels, H20 pretty much ignores the existence of Halloween 4, Halloween 5 and Halloween: The Curse of Michael Myers, positing that Laurie Strode didn't die in a car crash… but instead faked her own death and went on with her life, eventually becoming the headmistress of a gated Northern California prep school. Then Michael comes back to burst her bubble. H20 features a knowing cameo by Curtis's mom, Psycho star Janet Leigh, and a genuinely good performance by the 20-years-older Curtis, who finally gets to kill her awful brother. If only he'd stayed dead.
2. Halloween II (1981)
Written by Carpenter and Hill and directed by Rick Rosenthal, Halloween II got a bum rap when it was first released: The same critics who lauded Halloween declared the sequel formulaic, overly gory, dull and pointless — perhaps because they didn't much like horror movies anyway and had already had a bellyful of the slasher pictures that would wind up dominating the decade. But time has been good to Halloween II: No, Rosenthal isn't half the director Carpenter is, but hey — this is the movie that delivered the bombshell plot twist that drove the rest of the series: Laurie Strode is actually the other Myers sister, the one who was adopted after his murderous rampage. Common knowledge now, but a total jaw-dropper back in the day.
1. Halloween (1978)
Conceived by producer-distributor Irwin Yablans as a seasonal horror quickie about a psychopath stalking babysitters, Halloween — shot under the unpromising title The Babysitter Murders — was the little movie that could. Writer/director Carpenter and producer Debra Hill turned $320,000 into one of the most influential horror movies of the 20th century, made Jamie Lee Curtis into a scream queen and launched a thousand slashers. It opened in Kansas City just before Halloween; by Thanksgiving it was a national phenomenon and it looks as good now as it did 30 years ago. Halloween, we salute you!

Read More