There's Something About Terminator 3's Kristanna Loken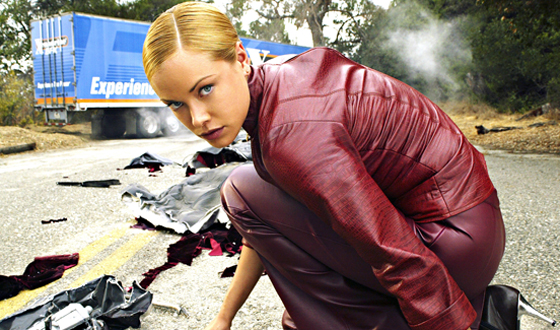 Fans of Kristanna Loken, the gorgeous bisexual movie star who earned
big points for sex appeal as the "Terminatrix" in Terminator
3: Rise of the Machines, might be wondering where she is
these days. Her 2007 role as Paige on Showtime's The L
Word was solid and satisfying, but fleeting. According to
buzz, she is starring as a character named Hottessa in the upcoming National Lampoons Awesomest Maximus, but details on
that movie are scarce. And Loken's other 2009 project, Darfur, rumored to be ready for release at the end
of this year, is unlikely to yield much in the way of bikini time.
While we await her next opportunity to light up the big screen,
let's have a look at Loken's role in T3, the title on which she cut her teeth to become an official hottie and landed her
on the map (and on the computer desktops of college boys worldwide). Loken expertly stokes the fire of an enduring message, a fact
that is as true now as it was in 2003: Sex sells. And sex not only
sells; usually, it wins.
Although Loken plays the enemy in T3 (the
newfangled killing machine T-X), she has us wrapped around her little
finger from the beginning, when she appears out of nowhere in a field
of intense heat, completely (and rather unnecessarily) naked until she
finds some poor, less attractive woman to steal clothes from. Then,
laying her creepy-sexy digi-eyes on a Victoria's Secret billboard
alongside the highway, T-X triggers some sort of auto-inflate device
that gives her breasts an extra cup size or two. She seductively licks
fresh blood from her index finger to pinpoint a victim's identity, and
she heats things up –literally — by shooting fireballs from her delicate
hands. And, confirming her high sex appeal status as both babe and gadget, the sultry T-X can access any database
in the word simply by holding a cell phone to her ear and making
modem noises with her pretty white teeth. You can imagine the conversations, can't you? "So after I get her
back to my place, she can use her cute modem mouth to order us a pizza?
AWESOME."
Claire Danes' character, Kate Brewster, on the other hand, is a
prim, buttoned-up, whiny baby. Kate's passionless relationship,
dull veterinary career, and snoozy, limp haircut quickly serve as an
anti-sexy counterpoint to Loken's dominatrix ways. Kate may be having a
weird day, but you'd think the human
resistance would make her lose the khaki blazer and up the mojo if it
would help the cause. In the end, predictably, Kate is the dull
background that serves to highlight T-X's adept lessons in sexiness. It
may not be the most popular concept out there, but it's an old truth
that the likes of Loken won't let us forget: It's all about sex. Just
grab some popcorn and enjoy the show.
Click here for a full schedule of Terminator 3: Rise of the Machines showings on AMC.
Read More