John Scalzi – Searching for a Starship Troopers in This Year's Hugo Nominees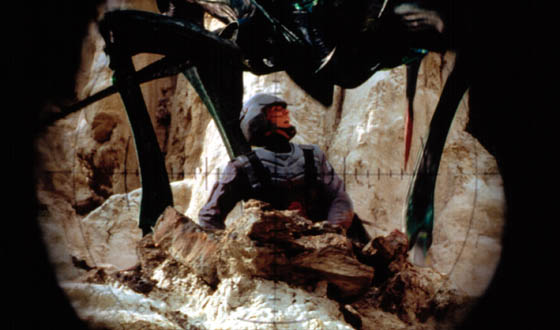 Starship Troopers in This Year's Hugo Nominees" width="560″/>

It's that time of year again: The World Science Fiction Convention convenes today in Montreal, Quebec, and for the next five days scifi fans from all over the world are going to get super-nerdy about their favorite books, movies, comics and other such things. The big event: The Hugo Awards, in which fans vote for their favorite novels, stories and movies. The winners get funky rocket-shaped trophies and the knowledge that they're on the top plateau of geekdom for a year. You really can't beat that.
Last year this time I looked at Hugo-winning novels to see which of them had been made into movies and whether those movies were any good (Starship Troopers, anyone?) This year, I'll look at the current crop of nominees for Best Novel and try to guess what their chances are of making it onto the silver screen.
Anathem, by Neal Stephenson
What's It About? On an Earth-like planet, a group of monkish scholars who are normally separated from the secular world for years at a time are suddenly called upon to solve a mysterious and planet-threatening conundrum.
Why It Would Make a Great Movie: The story crosses the entire globe and features a lot of action, including some that could be laden with groovy special effects; the main characters are young, which means that it could appeal to teens and the producers could hire unknowns in the main roles, keeping costs down.
Caveats: The book is 900 pages long, 200 pages of which establish the world, and much of the book concerns itself with intellectual pursuits. So any adaptation would remove huge chunks of story and might end up looking not at all like the actual book.
Other Data: Stephenson's previous works Snow Crash and The Diamond Age have been optioned, so he's a known name; Anathem landed on the New York Times bestseller list, which always gets Hollywood's attention.
Chance for a Movie Version: Possible.
The Graveyard Book, by Neil Gaiman
What's It About? A young boy is raised by ghosts in a graveyard after his parents are murdered, and as he grows he must find his way into the real world.
Why It Would Make a Great Movie: It's a great concept; the story is aimed at younger readers so the movie would be family-friendly; the cast of ghostly supporting characters means it could be peopled with all manner of fine British actors.
Caveat: Really, the only way this wouldn't make a great movie is if the screenwriter flubbed the screenplay.
Other Data: Neil Gaiman's stock in Hollywood is riding high with the success of Coraline, based on his Hugo-award winning novella, and Gaiman is working on several other movie projects; the book is already optioned, with Oscar-winner Neil Jordan (Interview With the Vampire) attached to direct.
Chance for a Movie Version: Oh, I'd say pretty darn good.
Little Brother, by Cory Doctorow
What's It About? After a terrorist attack on San Francisco, a teenage hacker and his friends use their skills to confound an increasingly repressive U.S. government.
Why It Would Make a Great Movie: Story is topical yet entertaining, so the movie would qualify as a "smart thriller," which Hollywood likes; taps into the age-old "never trust anyone over 30" maxim that each generation of young people re-discovers.
Caveats: The book balances polemics, politics, geekery and action, and that balance might be harder to achieve in a movie; the possibility of "issue fatigue" regarding the trustworthiness of the U.S. government (regardless of whether the government is, in fact, trustworthy).
Other Data: Another New York Times bestseller; Doctorow is one of the masterminds behind Boing Boing and an all-around hip young intellectual; already optioned by producer Don Murphy (From Hell, Transformers).
Chance for a Movie Version: Quite decent.
Saturn's Children, by Charles Stross
What's It About? After the extinction of humanity, an android designed as a courtesan undertakes a mission that could spell the end of android civilization.
Why It Would Make a Great Movie: Book is smart, funny, full of adventure and is not bounded by mere humans; main protagonist is "on screen" in almost every scene of the book and would be a brilliant vehicle for a young, fearless actress.
Caveats: Very effects heavy (most of the characters are robots that don't look like humans), so could be expensive to make; protagonist is really the only major human(like) star, so if the actress playing her can't pull it off, it'll be a long movie.
Other Data: Charles Stross currently holds the record for number of consecutive years with a Hugo nomination for Best Novel (this is his sixth); he's generally considered one of the leading lights of 21st century scifi.
Chance for a Movie Version: Possible, especially if the right actress discovers it.
There's a fifth nominee for Best Novel this year: Zoe's Tale. But since I wrote it, I'll recuse myself.
If I had to guess at which two have the best chance of coming to a theater near you, I'd go with The Graveyard Book and Little Brother. Which, incidentally, would be a double feature I'd love to see.
Which of these five books will actually win the Hugo for Best Novel? We'll find out Sunday night.
Winner of the Hugo Award and the John W. Campbell Award for Best New Writer, John Scalzi is the author of The Rough Guide to Sci-Fi Movies and the novels Old Man's War and Zoe's Tale. He's also Creative Consultant for the upcoming Stargate: Universe television series. His column appears every Thursday.
Read More