Major League Fans Know Hating the Yankees Is Not Just 1989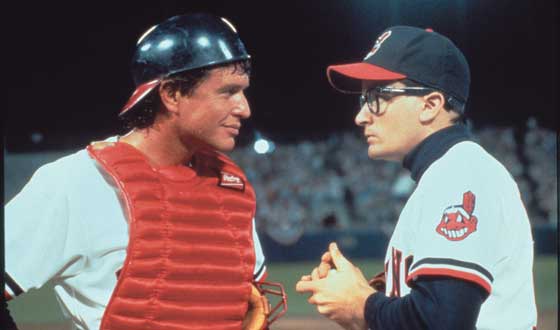 As the Yankees once again rule the American League, it's nice to look back to a time when major pictures showed the Bronx Bombers getting routed and everyone in the audience cheered. If there is no other reason to watch this sometimes hackneyed 1989 movie, it's for the good old-fashioned dose of schadenfreude it offers those of us out there who hate the Yankees.
And the drubbing the Yanks get from a ragtag band of Cleveland Indians players here is particularly satisfying. The Indians' relief pitcher, played by Charlie Sheen, is an ex-con known as "Wild Thing" because he can throw a pitch 100 miles per hour, but has no aim whatsoever. The team's star hitter is a voodoo worshipping Cuban-born outfielder who thinks his bat is inhabited by the spirit of a god he calls "Jobo."
You don't need to have seen Bad News Bears or A League of Their Own to know that the underdogs are probably going to win this one, but that
doesn't matter. To see the winningest baseball team in history go down to defeat before a bunch of screw-ups and misfits has its own rewards. Imagine the Yankees' batter who blows the game for the team to be what A-Rod might have played like if he'd never used steroids. Cleveland fans can think of the film as a rerun of that glorious 2004 game when
the Indians beat the Yankees 22-0.
Major League also provides a bit of escapism for anyone fed up with all of baseball's recent doping scandals, but not because it conjures up a time when our national pastime was more innocent. Rather, this is baseball at its most goofy. It offers some of the same pleasures as a good blooper reel, with some very funny scenes of the
Indians botching plays and fans making asses of themselves. Bob Uecker does a star-turn as a Jack Daniels-swigging announcer. "Just a reminder, fans, comin' up is our 'Die-hard Night' here at the stadium," he says over the air. "Free admission to anyone who was actually alive the last time the Indians won a pennant."
At times this 1989 movie can feel dated — the Indians, of course, are a much better team now — but that's just part of the fun. Check out Sheen's punk '80s haircut! Is that a… mullet? And for those who still rue the day when L.A. Law was cancelled, it's great to see Corbin Bernsen playing essentially the same role he did on the TV series. He's a slick, money-loving Casanova who barely exerts himself on the field because he's worried he might get injured.
But back to those damn Yankees. In the movie's finale where the Indians play the Bronx Bombers for the pennant title, Tom Berenson's character comes up to bat and points to the outfield. It's the same gesture Babe Ruth made in the 1932 World Series before hitting a homer that lead the Yanks to victory. But this time around, it signals that
the Yanks are about to get an ass-kicking. Such sweet revenge.
Click here for a full schedule of Major League showings on AMC.
Read More